The Sony A9 III and Sony A9 II are both 24 megapixel full-frame mirrorless cameras that have a clear focus on providing as much speed as possible for sports and wildlife photography.
Despite looking very similar to each other, they're actually quite different when it comes to their core specifications.
So we're bringing you this Sony A9 III vs Sony A9 II head-to-head comparison to help you choose between these two full-frame cameras.
You can also read our detailed Sony A9 III review and Sony A9 II review to find out exactly what we think of each one in much more depth.
Sensor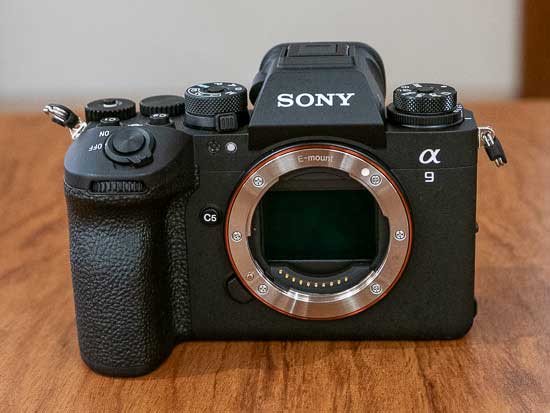 Both of these cameras offer very similar megapixel counts, but use very different sensor technologies.
The Sony A9 II has a 35mm full-frame stacked Exmor RS CMOS sensor offering a resolution of 24.2 megapixels.
The Sony A9 II has a 35mm full-frame stacked Exmor RS CMOS sensor offering a resolution of 24.6 megapixels.
The key difference between them is a big one though – the A9 III uses the world's first ever 35mm full-frame global shutter image sensor, whereas the A9 II has a more conventional progressive sensor design.
So whereas the A9II reads out the sensor line by line, a global shutter allows the A9 III to instantly read the entire sensor in one go.
This has a number of important benefits. It virtually eliminates rolling shutter in video, distortion of movement if the subject moves quickly across the frame, and flicker and banding under artificial lights, whilst providing an incredibly high shutter speed of 1/80,000th second.
The technological leap to a global electronic shutter means that the A9III completely dispenses with a traditional mechanical shutter. the A9 II has both an electronic and a mechanical shutter.
Processor
The A9 III uses two of the very latest BIONZ XR processors, which offer 8x more processing power than the BIONZ X processor found in the previous A9 II.
ISO Speed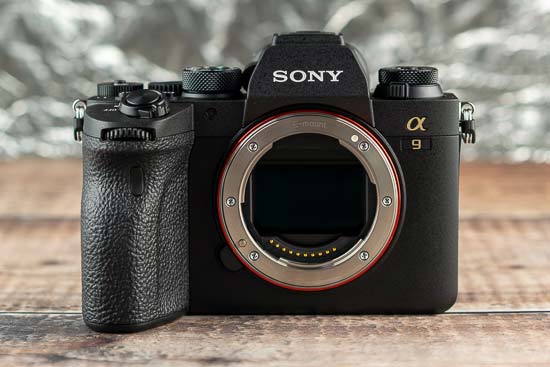 The A9 II has a native ISO range of 100-1200 that is expandable to 50-204800.
The ISO range of the A9 III is 250-25600, expandable to 125-51200 for stills, as a characteristic of the global shutter sensor is a higher base ISO speed.
Video
The A9 III offers much more advanced video recording specs and performance than the A9 II.
It features 6K oversampling for 4K 60p and 4K 120p without cropping, all distortion-free (no jello effect) in 10-bit 4:2:2 S-log3 / S-Cinetone, with Dynamic Active Mode stabilisation, breathing compensation and custom LUTS all available.
The Sony A9 II can also shoot and record 4K video using a full pixel readout without pixel binning to collect 6K of information, but only at 30p. It can output uncompressed UHD 4K, 3840 x 2160 pixel video (30p/24p/25p) at a 10-bit 4:2:2 color depth.
Autofocus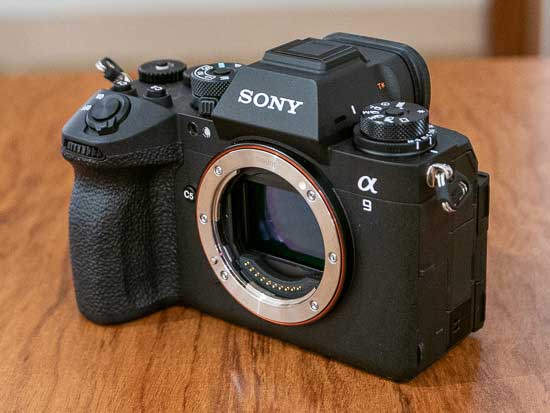 The Sony A9 III's AF system has 759 on-sensor phase detection points that cover approximately 95% of the image area and it can focus down to -5EV.
It can recognise a human via its pose as well as its eye and face. So if the person's head is turned away from the camera, it will still accurately detect the subject as human based on its AI deep learning.
It can also recognise animals, birds, insects, airplanes, and cars/trains. In the latter category, it is now capable of focusing on helmets, it can recognise the eyes of some grazing and small animals, and more easily pinpoint the eyes of a variety of bird types as well as recognising bird bodies.
A new Animal/Bird setting eliminates the need to switch between those settings to shoot animals or birds.
The older A9 II has 693 focal plane phase detection AF points that cover approximately 93% of the frame and can focus down to -3EV. It only has the Real-time AF tracking system, rather than the A9 III's newer AI-based Real-time Recognition system.
Burst Shooting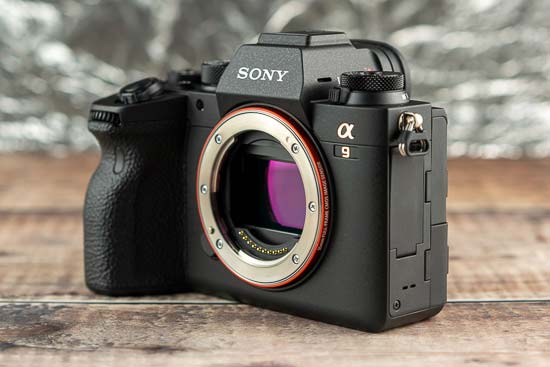 The A9 II can shoot continuously at 20fps for up to 241 RAW / 362 JPEG or 12-bit Compressed Raw images with full-time AF/AE and no blackout between frames.
The newer A9 III can record an astonishing 120 frames per second for 192 frames / 1.6 seconds at full 24 megapixel resolution for both JPEG and 14-bit Raw formats with full-time AF/AE and no blackout between frames.
Pre-capture is a new feature on the A9 III that we've seen before on other manufacturers' cameras, but is a first for Sony. When activated, up to 120 frames per second are temporarily stored while the shutter button is half-pressed, and up to 1 second before can be captured once the shutter is fully pressed, providing a degree of leniency for fast-moving action.
The Continuous Speed Shooting Boost function provides an easy way to engage the headline-grabbing 120fps burst mode – yes, 120 frames per second for 1.6 seconds at full 24 megapixel resolution for both JPEG and 14-bit Raw formats with full-time AF/AE! – at the press of a button, if you're not already shooting at 120fps.
Shutter Speed
The A9 II has a very fast maximum shutter speed of 1/32,000th second thanks to its electronic shutter, but the A9III ups the ante by offering an even more impressive 1/80,000th shutter speed for stills.
Note that for the moment the maximum shutter speed is 1/16,000th second when the A9 III is set to any burst shooting mode, even the Low setting. This will apparently be changed to 1/80,000th sec in March 2024 via a firmware update.
Flash Sync Speed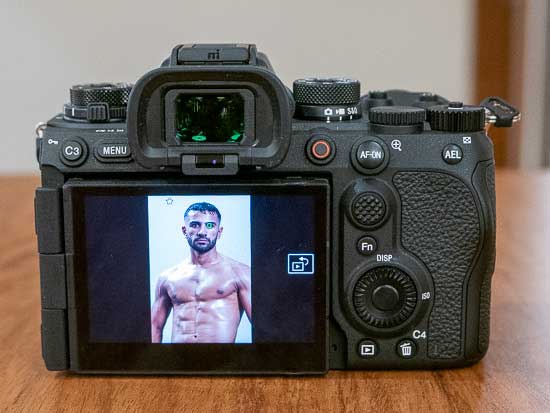 Flash-sync is available at any shutter speed up to 1/80,000th sec on the A9 III thanks to its global shutter, completely eliminating the need for a high-speed flash sync setting,
This potentially allows the photographer to overpower the sun and control the background exposure even at midday at base ISO with a high shutter speed, and just use a small, affordable flashgun as a fill-in light.
In comparison the A9 II has a flash sync speed of 1/250 sec, which is much more typical.
Body
Sony have significantly tweaked the design of the A9 III's hand-grip, which is larger than its predecessors and perhaps more importantly spaced further away from the lens mount, which allows for more room for your fingers to curl around the grip without touching the attached lens.
The A9 III is wider and therefore heavier than its predecessor, measuring 136.1 x 96.9 x 82.9 mm and weighing 702 g / 1 lb 8.8 oz, versus 128.9 x 96.4 x 77.5 mm and 678 g / 1.49 lb on the Mark II.
Other subtle changes include moving the shutter button slightly forward to better facilitate its release, and a new custom button (C5) on the front of the camera.
Viewfinder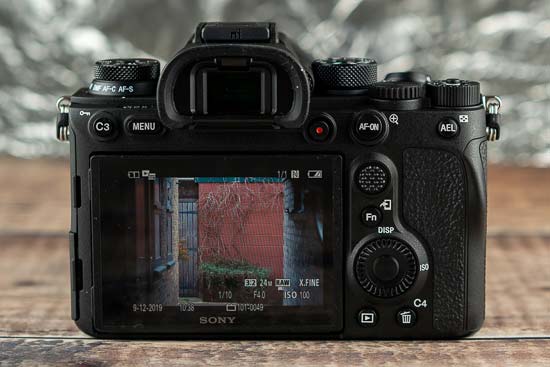 The A9 III has a much better viewfinder than the A9 II – a class-leading 9.44M-dot OLED Quad-XGA electronic viewfinder with 0.90x magnification and a refresh rate of up to 240fps.
The A9 II has a lower-res Quad-VGA OLED Tru-Finder with approximately 3,686k dots, a magnification of 0.78x and 120fps maximum refresh rate.
LCD Screen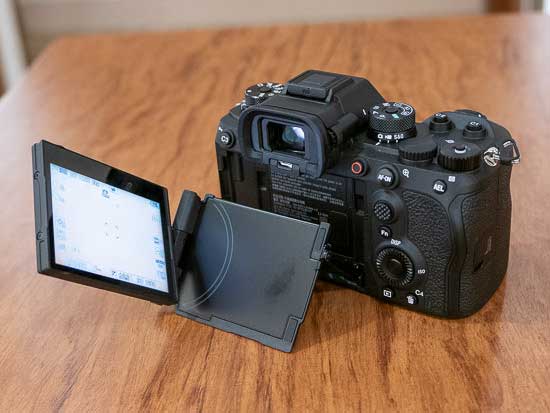 The A9 III inherits the 3.2-inch, 2095K dot resolution, 4-axis LCD screen from the A7R V and which is unique to Sony, which can be flipped out to the side, rotated to the front, folded against the back of the camera to help protect it, and set to many other positions in-between.
The A9 II has a 3-inch, 1,440K-dot resolution LCD screen which can be tilted up to 41° downwards to shoot over crowds or up to 107° upwards, but not forwards or out to the side.
IBIS
Both cameras have 5-axis optical in-body image stabilisation that corrects for pitch and yaw shake.
Thanks to a newly redesigned stabilisation unit, the A9 III offers up to 8 stops of in-body stabilisation, making it the most capable Alpha camera in this regard.
The Sony A9 II has a stabilisation unit which only offers up to 5.5 stops of in-body stabilisation.
The A9 III also benefits from having two electronic stabilization modes for video recording. There's a special Active Mode that increases stabilization for hand-held movie shooting by using the BIONZ XR processors.
Providing even more compensation at the expense of an increased crop factor is the new Dynamic Active Mode, which improves the stabilisation by more than 30% over the Active Mode.
Memory Cards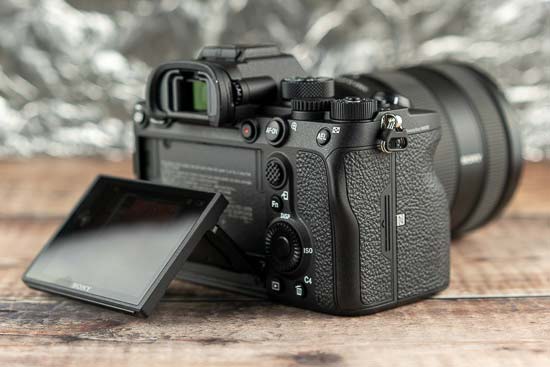 The A9 II has dual SD memory card slots which use the fastest UHS-II standard.
The A9 III also has dual slots, but both of them can be used for either SD UHS-I/II compliant memory cards or faster CFexpress Type A cards.
Battery Life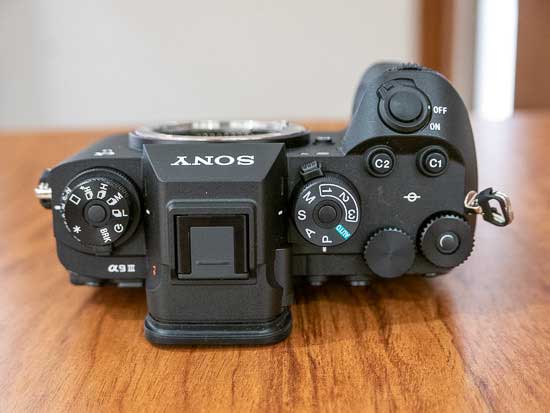 The Sony A9 III uses exactly the same large capacity NP-FZ100 battery as the A9 II model.
The A9 II is capable of recording 690 shots using the LCD screen and 500 when using the EVF.
The A9 III is only capable of recording 530 shots using the LCD screen and 400 when using the EVF, presumably due to its greater power consumption.
Both cameras can also be powered and charged via a USB connection, which is useful if you're out and about and have a compatible powerbank to plug the camera into, and both use the newer USB-C variant.
Price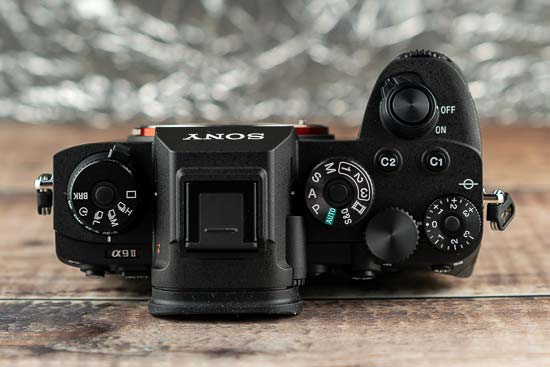 The Sony A9 III is priced at £6100 / $6000 / €7000 body-only in the UK, US and Europe respectively.
The A9 II is priced at £4800 / $4500 / €5400 body-only in the UK, US and Europe respectively.
Conclusion
Choosing between the new Sony A9 III and the A9 II really comes down to the price you're literally prepared to pay for the technologically superior newer model, which thanks to its innovative global shutter offers a number of significant benefits whilst also inheriting many of the advances that Sony have made on other Alpha cameras during the last 4 years.
So what do you think? Would you choose the older, cheaper Sony A9 II or the newer, pricier A9 III? Leave a comment below!
Your Comments


Credit : Source Post