The Sony A7C R and Sony A7R V are both 61 megapixel full-frame mirrorless cameras that have a clear focus on providing as much resolution as possible.
Despite taking a very approach to their different external design, they're actually very similar when it comes to their core specifications.
So we're bringing you this Sony A7C R vs Sony A7R V head-to-head comparison to help you choose between these two full-frame cameras.
You can also read our detailed Sony A7C R review and Sony A7R V review to find out exactly what we think of each one in much more depth.
Sensor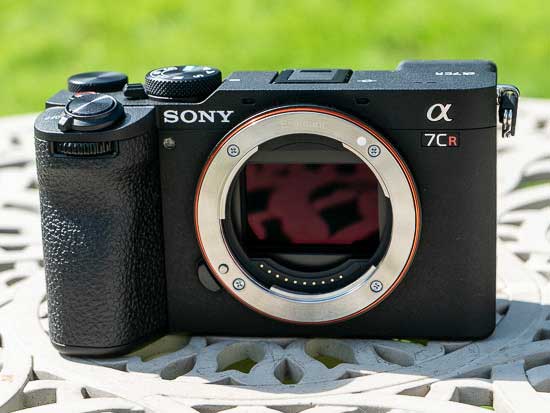 Both cameras have exactly the same 61 megapixel, 35mm full-frame, back-side illuminated (BSI) CMOS Exmor R sensor, so the image quality should be nigh on identical.
Processor
Both cameras use the very latest BIONZ XR processor, which offers a whopping 15+ stops of dynamic range and 8x more processing power than the BIONZ X processor found in the original A7C, which was itself no slouch.
ISO Speed
The native sensitivity range of the Sony A7C R and the A7R V is identical – ISO 100-32,000, which can be expanded down to ISO 50 and up to ISO 102,400.
Pixel Shift Multi Shooting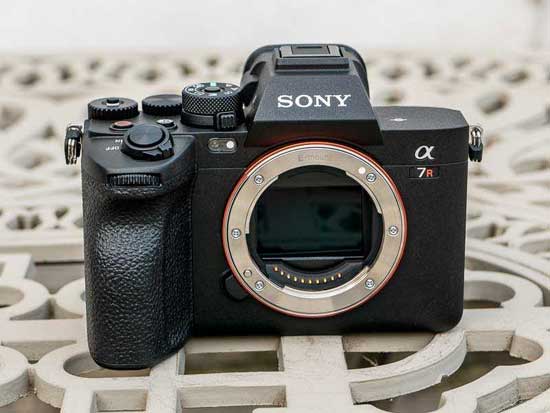 Both cameras have a special multi-shot shooting mode in which they take 16 different images that can then be combined using the Imaging Edge Desktop software to produce a single, 241-megapixel image.
Both can automatically detect and correct small movements in the 16 images, such as leaves in trees or people, greatly expanding where and when you can deploy the Pixel Shift Multi Shooting mode.
Multi Resolution
Both the A7C R and A7R V offer the Lossless Compressed RAW format that was first introduced on the flagship Alpha 1, which reduces the file size by between 50-80%.
Another great feature is the ability to choose 26 megapixel / Medium or 15 megapixel / Small versions of both RAW and JEPG/HEIF files.
Even better is the option to switch from 60 megapixel full-frame to 26 megapixel APS-C stills when shooting Lossless Compressed RAW or JEPG/HEIF, enabling you to instantly "zoom in" on your subject at the push of one customisable button without the need to change either focal lengths or lenses.
Video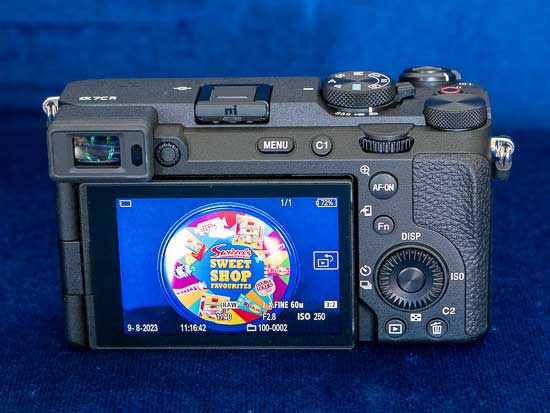 The A7R V offers slightly more advanced video recording specs and performance than the A7C R.
The A7RV can record 8K/25p and 4K/60p with a modest 1.2x crop in 10bit 4:2:2 quality. It also offers 4K/30/25/24p and 1080/120p recording with no crop.
The A7C R can capture 4K/60p full-frame video with a 1.2x crop and 4K/30p oversampled form 6.2K footage in Super 35mm mode (1.5x crop), both at 10-bit 4:2:2 or 4:2:0 quality and in either H.265 and H.264 AVC file formats.
Both cameras support 16-bit RAW output to an external recorder via an HDMI cable and they support the newer Digital Audio Interface (via the Multi Interface Shoe) to enable use of the ECM-B1M digital shotgun microphone or similar.
Other video features supported by the A7C R and A7R V include S-Cinetone profile, breathing compensation, focus map, and Active+ stabilisation.
Only the newer A7C R supports M-LUT and Log recording with LUTs, though, and it also offers the clever Auto Framing feature which uses the camera's AI-based subject recognition technology to automatically crop the frame to keep the subject in a prominent position when shooting movies, even when the camera is mounted on a tripod.
Autofocus
The new A7C R has exactly the same hybrid autofocus system with phase detection and and contrast detections points as the A7R V.
There are 693 phase-detection points that cover 79% of the frame, with the system working all the way down to -4EV low-light.
Sony has added an AI deep learning processing unit to both cameras which enables them to recognise far more subjects than previous models, and also greatly improves the detection of humans and animals/birds.
The A7C R and A7R V can recognise a human via its pose as well as its eye and face. So if the person's head is turned away from the camera, they will still accurately detect the subject as human based on their AI deep learning.
Animal and bird detection has been expanded from just being able to recognise the eye on the A7C to the eye, head and body on the A7C R / A7R V.
As well as humans and animals, both new models are able to recognise airplanes, cars, trains and insects.
Burst Shooting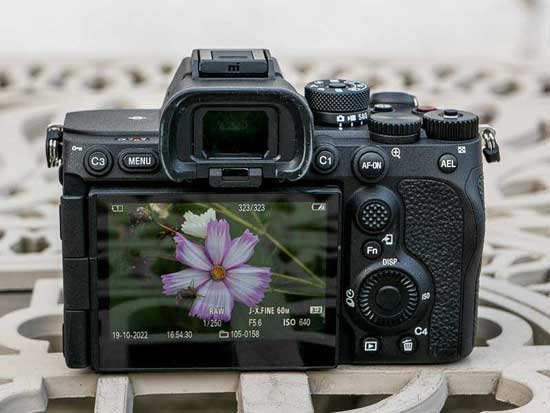 The A7R V offers 10fps burst shooting with Full AF/AE tracking using either the mechanical or silent electronic shutter.
It can record up to 88 uncompressed RAW, 184 compressed RAW+ JPEG, 583 compressed RAW, or 1000+ JPEGs, which is pretty impressive for a 61 megapixel camera!
The newer A7C R can only shoot at 8fps with Full AF/AE tracking using the mechanical shutter or 7fps with the silent electronic shutter.
Body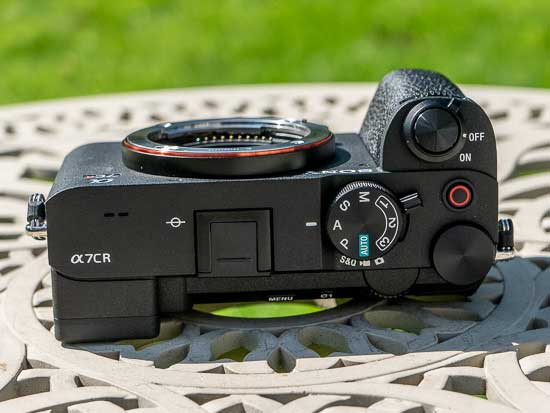 These two cameras take a completely different approach to their external design, with the A7C R following the long-established rangefinder-esque format of the A6000-series cameras and the A7R V inheriting the mini-DSLR feel of the A7-series.
There are some clear design similarities though that have been passed down the line-up, with the external controls broadly mimicking each other.
Firstly, the handgrip on the A7C R has been made larger and more prominent to offer greater balance with heavy or telephoto lenses. It's not as big as the one on the A7R V but is a welcome improvement none-the-less.
There's also a new Extension Grip available which further improves the handling – this is supplied in the box with the A7C R.
Both cameras have a second command dial at at the top of the handgrip which makes it even easier to change the key exposure settings in conjunction with the rear command dial.
On the rear, the Still/Movie/S&Q dial from the A7 full-frame series has made its way onto the A7C R, joined by a larger, more prominent rear AF On button and a new C1 custom button which accesses the white balance settings by default.
The A7C R doesn't have either a dedicated AEL button or AF joystick though, both of which can be found on the larger A7R V.
Viewfinder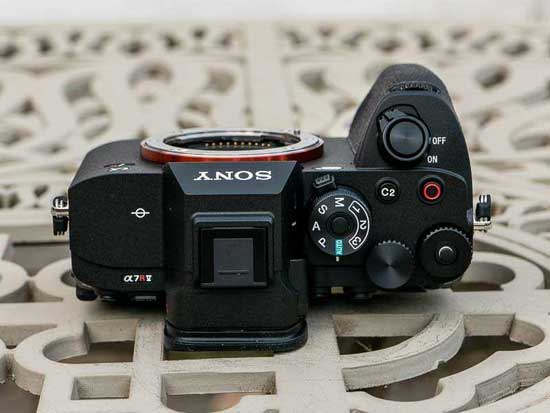 The A7R V has a much better viewfinder than the A7C R – a class-leading 9.44M-dot OLED Quad-XGA electronic viewfinder with 0.90x magnification and a refresh rate of up to 120fps.
The A7C R has a lower-res 2.36M-dot OLED XGA electronic viewfinder with 0.70x magnification and a 120fps high frame rate setting.
LCD Screen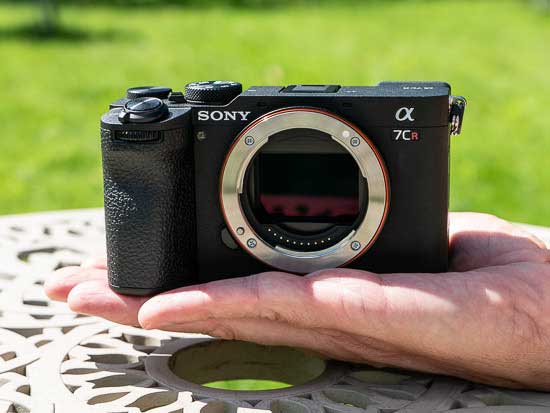 The A7R V has a really good 3.2-inch LCD screen with 2.10M dot resolution. It has an incredible 4-axis multi-angle screen that can be flipped out to the side, rotated to the front, folded against the back of the camera to help protect it, and set to many other positions in-between.
The A7C R has a 3-inch, 3:2 ratio LCD screen with 1.03M pixels – we'd have expected to see a higher resolution screen on a new camera released in 2023.
This is a fully articulating vari-angle design which means that you can flip out the screen to the side, rotate it forwards for easier operation when pointing the camera at yourself, and fold it flat against the back of the camera to stop it from getting scratched.
IBIS
Both cameras have 5-axis optical in-body image stabilisation that corrects for pitch and yaw shake.
Thanks to a newly redesigned stabilisation unit, the new A7C R offers up to 7 stops of in-body stabilisation.
The Sony A7R V has a stabilisation unit which offers up to 8 stops of in-body stabilisation, making it the most capable Alpha camera in this regard.
Both models benefit from having a special Active Mode that increases stabilization for hand-held movie shooting by using the BIONZ XR processors.
Memory Cards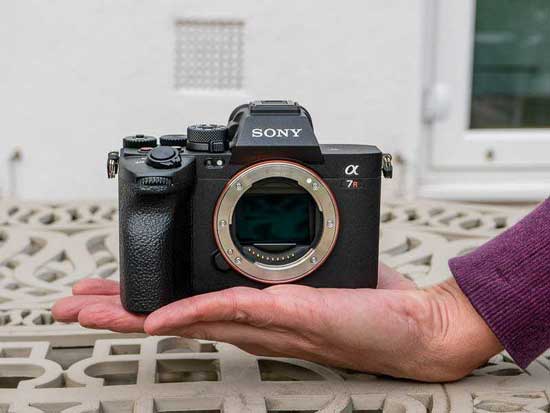 The larger A7R V has dual memory card slots, and one of these slots can interchangeably use UHS-II SD-cards and even faster CFexpress Type A cards.
Perhaps unsurprisingly given its more compact size, the A7C R only has a single memory card slot which supports the faster SD UHS-II memory card standard.
Both cameras have a dedicated memory card port that's hidden behind a lockable door on the side of the camera.
Battery Life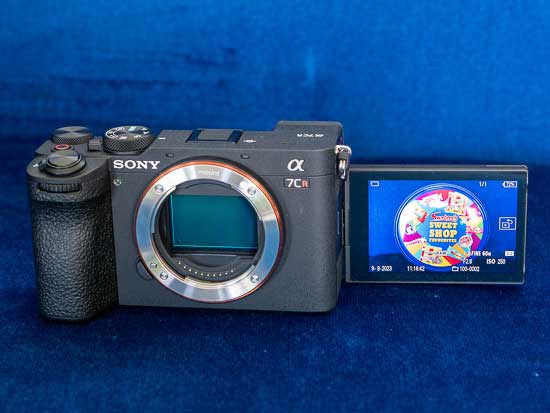 The Sony A7C R uses exactly the same large capacity NP-FZ100 battery as the A7R V model.
The A7C R has a CIPA-rated battery life of around 540 shots when using the LCD screen and 510 when using the viewfinder, whereas the slightly more power-hungry A7R V offers 530 shots when using the LCD screen and 430 when using the viewfinder.
Both cameras can also be powered and charged via a USB connection, which is useful if you're out and about and have a compatible powerbank to plug the camera into, and both use the newer USB-C variant.
Price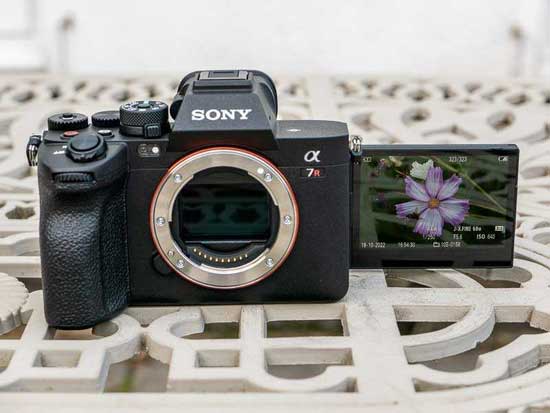 The Sony A7R V is priced at around £4,000 body only in the UK, $3,900 in the US and €4,500 in Europe and is only available in black.
In comparison, the newer A7C R is priced at around £3,200 / €3,700 body only and is available in black or silver.
Conclusion
Choosing between the new Sony A7C R and the A7R V really comes down to which camera format you prefer – compact rangefinder or larger DSLR – and whether you can afford the extra £$€800 for the A7R V.
The A7R V does offer a much better viewfinder and LCD screen, dual memory card slots, slightly better IBIS, faster burst shooting, and slightly more advanced video recording including 8K quality.
On the flip-side, the smaller, lighter A7C R offers some additional video features and longer battery life, not to mention that significant cost-saving.
So what do you think? Would you choose the smaller, cheaper Sony A7C R or the larger, pricier A7R V? Leave a comment below!
Your Comments


Credit : Source Post