The top of Samsung's new 2023 laptop line is the Galaxy Book 3 Ultra: a powerhouse 16in machine aiming squarely at Apple's 16in MacBook Pro for creatives and gamers.
A laptop called Ultra obviously doesn't come cheap, costing from £2,449 ($2,200), which is about the same price as Windows 11 rivals from Dell and Razer but slightly cheaper than Apple's top machines.
The Ultra looks very similar to Samsung's other minimalist Galaxy Book laptops from the last few years, only bigger, in contrast to frequently garish gaming PCs. It is surprisingly thin and light for a 16in laptop, weighing 1.78kg, which isn't dramatically heavier than much smaller machines and much lighter than most of the competition.
The star of the show is the simply stunning 16in 3K OLED display with a 120Hz refresh rate. It is one of the best displays I've seen, with inky blacks, amazing contrast and accurate colours that practically burst out of the screen. Its peak brightness of about 500nits for HDR content is comfortably beaten by the searing brightness of the LCD-based MacBook Pro but in line with OLED competitors and certainly bright enough to look great.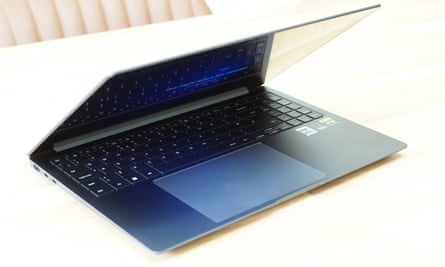 Below the screen is a big and good keyboard, with a solid typing experience and a fingerprint reader in the power button. Gamers may want more feedback but for writing it was excellent. It has a decent but not class-leading 1080p webcam with various tricks such as auto-panning and blur effects at the top of the screen. The mics are very good, and the set of four speakers is pretty immersive for a laptop.
Specifications
Screen: 16in 3K AMOLED 2880 x 1800 (120Hz; 201 PPI)

Processor: Intel Core i7-13700H or i9-13900H (13th gen)

Graphics: Nvidia GeForce RTX4050 (6GB) or 4070 (8GB) laptop GPU

RAM: 16 or 32GB

Storage: 512GB or 1TB

Operating system: Windows 11 Home

Camera: 1080P

Connectivity: wifi 6E, Bluetooth 5.1, USB-A, 2x Thunderbolt 4, headphones, microSD, HDMI2.0

Dimensions: 355.4 x 250.4 x 16.5mm

Weight: 1.79kg
Two-stage power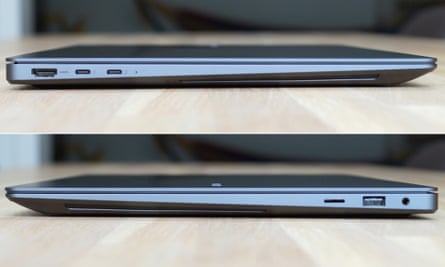 The Ultra is available in a small choice of configurations that vary by country, including models with an Intel Core i7-13700H processor and Nvidia GeForce RTX4050 graphics card, or a Core i9-13900H and RTX4070 at the top end as tested. Note, a model with 32GB of RAM or greater is not available in the UK, which may be a deal killer for some.
As you would expect for the hardware, the Ultra is an extremely powerful machine, keeping pace with Apple's top laptop and gaming rigs across a range of tests. It is able to produce high frame rates in a variety of demanding games at 1080p resolution with high graphics settings, which look fantastic on the glorious screen. The base of the laptop gets pretty hot, however, so I would not use it gaming on a lap. It also handles complex image and video editing, transcoding and other demanding tasks with aplomb for creative applications.
But its maximum power is only available when it is plugged in and set to high performance mode. That's typical of the kind of PC hardware it has inside but isn't the case for Apple's competitor.
Even at full tilt, the fans in the Ultra manage to avoid being overly noisy compared with some hairdryer-like laptops. In more mundane day-to-day productivity work, it runs essentially silently, which is most appreciated.
Battery life for productivity is fairly average, lasting about seven hours on a balanced workload of browsing, video calls and writing, which isn't quite enough for a work day. It holds up better compared with the competition under intense loads, lasting just shy of three hours when pushed. A full charge takes about 75 minutes using the included 100W power adaptor.
Sustainability
Samsung does not provide an expected lifespan for the battery but it should last in excess of 500 full-charge cycles with at least 80% of its original capacity.
The laptop is generally repairable priced on a case-by-case basis but not upgradeable. The laptop contains recycled plastic in its casing. Samsung offers trade-in and recycling schemes for some old devices. The company publishes annual sustainability reports but not impact assessments for individual products.
Windows 11 + Samsung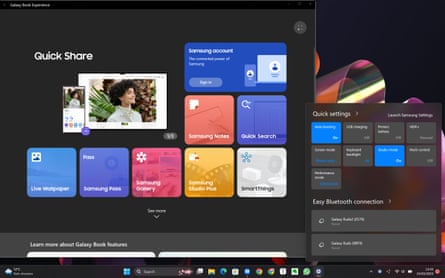 The Ultra runs Windows 11 out of the box but comes pre-installed with a large range of Samsung apps and tools. Generally, it ran smoothly and without issue. I removed the free trial of McAfee and several other unwanted apps.
You may never use many of the 22 included Samsung apps and can safely uninstall them. But some, such as the quick settings tool, are very useful, allowing you to change system settings, performance modes, screen modes and other bits quickly and painlessly.
About half of them are designed to link up with and sync content across other Samsung devices, which is handy if you happen to also have a modern Galaxy phone or any of the company's accessories such as earbuds. For example, you can control a Samsung phone using the keyboard and mouse on the laptop.
Some of the other tools, such as the Intel connectivity performance suite, give you much greater control over the hardware within the laptop, which is welcome given this is a power-user machine.
Price
The Samsung Galaxy Book 3 Ultra starts at £2,449 ($2199.99) with an Intel Core i7, 16GB of RAM, 512GB of storage and a Nvidia GeForce RTX 4050 GPU. The Core i9 version with GeForce RTX 4070 costs £3,049.
For comparison, the equivalent Razer Blade 16 starts at £2,699, the Dell XPS 15 at £3,099, the Alienware m16 at £2,149, and the Apple 16in MacBook Pro at £2,699.
Verdict
The Galaxy Book 3 Ultra is the first Samsung laptop to really compete on a level with arch-rival Apple's big MacBook Pro, delivering the raw power, quality build and stunning screen required by creatives and gamers alike.
It is a thoroughly impressive machine, offering the ability to seamlessly switch between simple productivity work, serious photo and video editing, and then perform as a proper gaming rig at the end of the day, all without looking out of place. There are few machines that manage that quite so successfully, and in such a light and compact body for a 16in laptop.
The enormous trackpad is great, and the keyboard is really good for writing, but gamers might want a bit more feedback. It is very expensive, even if competitively priced for this type of machine. It could do with longer productivity battery life.
For those looking for a Windows alternative to a 16in MacBook Pro for creative work or a more subtle gaming PC they can lug to the office when needed, the Galaxy Book 3 Ultra is right up there with the best available.
Pros: stunning 16in OLED screen, powerful choice of top Intel and Nvidia chips, enormous trackpad, good keyboard for writing, subtle design, good speakers and mics, decent webcam, compact and light for a workstation.

Cons: expensive, no 32GB RAM option in the UK, only HDMI2.0, max performance only available when plugged in, productivity battery life is a bit short, design might be too businesslike for a gaming laptop.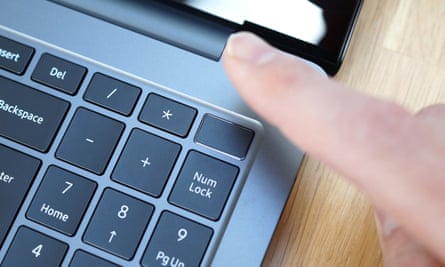 Credit : Source Post