The Lumix GH6 hybrid photo and video mirrorless camera was launched last year in 2022, and we absolutely loved it, awarding it our highest 5-star Essential rating and commenting that "the new Panasonic Lumix GH6 delivers virtually everything that an aspiring one-man/woman videographer could ever want from a hybrid camera.".
Until the launch of the new Lumix G9 II, that is, which promises to up the ante even further. But how exactly do the GH6 and G9 II differ and ultimately which one should you buy?
We're bringing you this Panasonic Lumix G9 II vs Panasonic Lumix GH6 head-to-head comparison to help you choose between the two cameras.
You can also read our detailed Panasonic Lumix G9 II review and Panasonic Lumix GH6 review to find out exactly what we think of each model in much more depth.
Sensor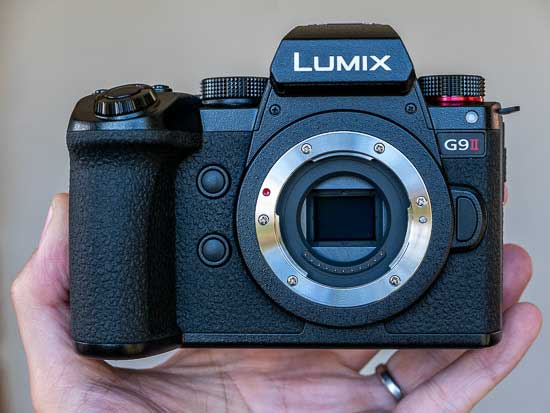 Both cameras have a Micro Four Thirds rather than an APS-C or 35mm full-frame sensor.
Both utilise a 25.2 megapixel CMOS MFT sensor, which offers the highest megapixel count of any current Panasonic Lumix Micro Four Thirds camera.
This sensor gives the new version the edge in resolution over previous Lumix models, allowing you to apply more aggressive crops or make bigger prints.
Unlike the GH6, though, the Mark II G9 is built around a newly developed sensor that for the first time on any Lumix MFT camera supports Hybrid Phase Detection Auto-Focus.
All previous Lumix MFT cameras, including the Panasonic GH6, have used a contrast-based AF system.
We'll talk more about this below, but suffice to say this is a big deal that could persuade many people to buy the G9 II rather than the GH6.
Processor
The new Lumix G9 II uses the very latest Venus Engine processor with L² technology incorporated, which Panasonic claim is 2x faster than the previous generation processor used in the GH6.
This provides higher resolution, higher bit rates and minimises rolling shutter.
ISO Speed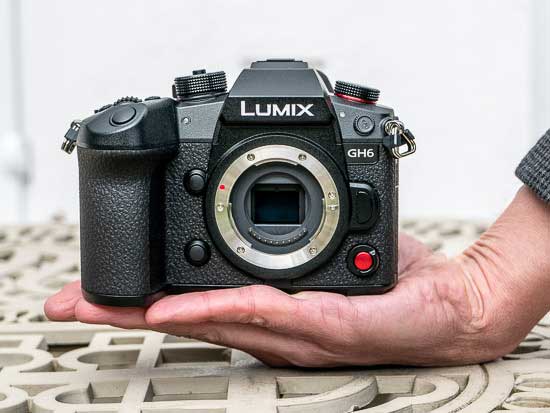 Both the G9 II and the GH6 offer exactly the same ISO range, which runs from ISO 100-25,600 and can be expanded down to ISO 50 if required.
High Resolution Mode
Both cameras offer the special High Resolution mode, which delivers 100 megapixel images for the ultimate quality when detail really matters.
In the High Resolution mode the camera rapidly takes 8 separate images and combines them into one JPEG or Raw file.
The new G9II benefits from also having the same hand-held high-res mode as the GH6, so you don't have to mount the camera on a tripod for the best results.
Video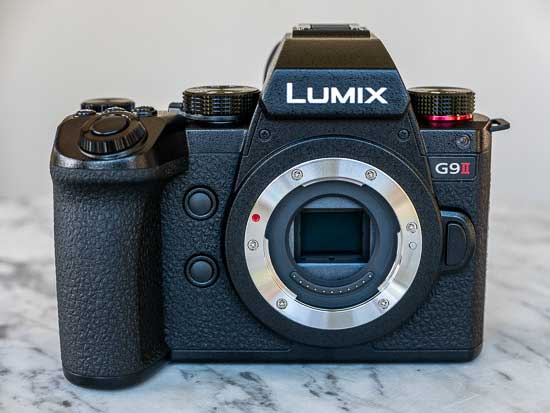 The GH6 provides 5.7K 30p internal video recording, which was available in ProRes 422 HQ and ProRes 422 for the first time in the LUMIX series when it was released in 2022.
It also supports 4:2:2 10-bit Cinema 4K 60p internal recording as well as simultaneous output in 4:2:2 10-bit Cinema 4K 60p over HDMI.
Other stand-out features include 4:2:0 10-bit 4K 120p (equivalent to 5x slow motion) and 4:2:2 10bit FHD 240p HFR (High Frame Rate) options, plus 5.7K 4:2:0 10-bit 60p/50p and 5.8K 30p/25p/24p 4:2:0 10-bit anamorphic 4:3 modes recorded utilising the full area of the sensor.
The LUMIX GH6 also contains V-Log/V-Gamut for the first time in the LUMIX G Series Micro Four Thirds camera line-up which provides 12+ stops of wide dynamic range, and there's a brand new Dynamic Range Boost mode which expands it to 13+ stops.
Importantly, the GH6 offers unlimited video recording time in all modes by employing a forced-cooling fan mechanism to combat over-heating, something that the G9 II doesn't guarantee.
The new G9II supports up to 5.7K 60p and 4K/C4K 120p 10-bit 4:2:2 or 4:2:0 recording, depending on the specific mode – 5.7K (17:9) 30p/25p and C4K/4K 120p/100p are 4:2:0 10-bit.
ProRes 422 HQ and ProRes 422 can be recorded to an external SSD recorder with one caveat – if you're recording more than 60fps to the SSD it requires an additional external power source.
5.8K 30p/25p/24p 4:2:0 10-bit anamorphic 4:3 modes are recorded utilising the full area of the sensor and there are also 4.4K 60p/50p/48p modes.
The Lumix G9 II has V-Log/V-Gamut built-in which provides 13+ stops of wide dynamic range, and the Dynamic Range Boost mode expands it to 14+ stops.
Both models utilise the full area of the sensor to record then downsample it in-camera, which means that your framing won't be cropped when composing.
Autofocus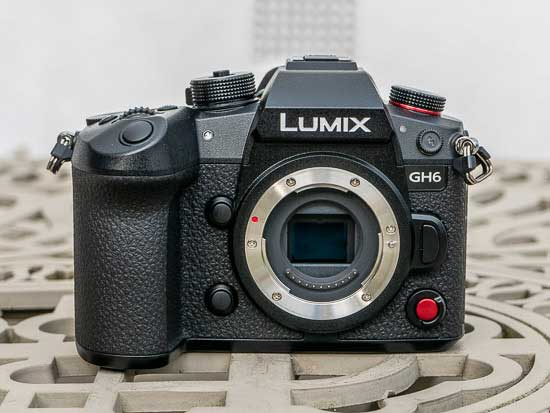 The new G9II is the first ever Lumix Micro Four Thirds camera to use a hybrid contrast and phase-detection auto-focus system.
Fast and dependable and providing 779-area metering, the new PDAF system is able to detect target subjects in difficult conditions such as low light and backlighting and, once locked on, will remain tracking them even with other moving objects in the frame.
The GH6 employs a 315-point contrast-based auto-focusing system which utilises Panasonic's clever DFD (Depth from Defocus) technology. Panasonic have updated their AF algorithms to offer faster performance and less visible pulsing than before.
In practice, there were few occasions when the GH6 failed to lock onto the subject, especially when using the centre AF point, resulting in a generally responsive and importantly reliable AF system for most subjects.
Having said that, it did struggle a little more often than desired with erratic, fast-moving subjects such as sports and wildlife, and it definitely still lags behind the best phase-detect AF systems.
If continuous auto-focusing is top of your requirements list, then it's definitely worth choosing the newer G9 II model with its superior phase-detection AF system.
Subject recognition on the G9II has been further improved so that it now recognises cars and motorcycles and it can differentiate between the body and eye of an animal – the GH6 can't do either of these things.
Burst Shooting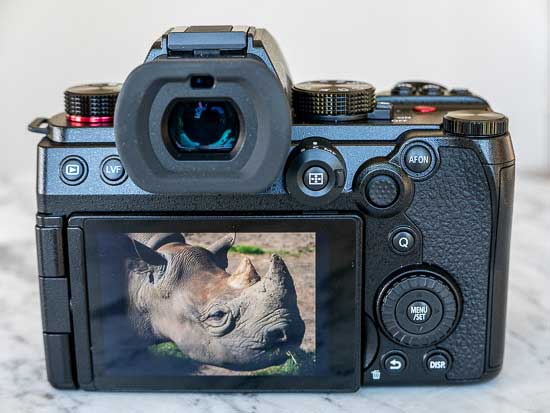 Despite having a Venus processing engine onboard which delivers approximately twice the processing power of the previous generation, the GH6 only offers a top continuous shooting speed of 8fps in AFC mode, and the buffer is small too – up to 95 JPEGs or 65 RAW files.
The GH6 does have a headline grabbing 75fps mode at full 25 megapixel resolution, but this is limited to AFS burst shooting using the electronic shutter.
The new 2023 G9 II ups the ante considerably by offering 60fps burst shooting with continuous auto-focusing and
the same 75fps mode as the GH6 with the focus and exposure locked at the first frame.
There is also a
much larger 200 shot buffer for both JPEG and RAW files which provides around 3 seconds of shooting time.
If you prefer to use the mechanical shutter, the burst rates have also been improved slightly from 14/8fps (AFS/AFC) on the GH6 to 14/10fps on the G9 II.
Body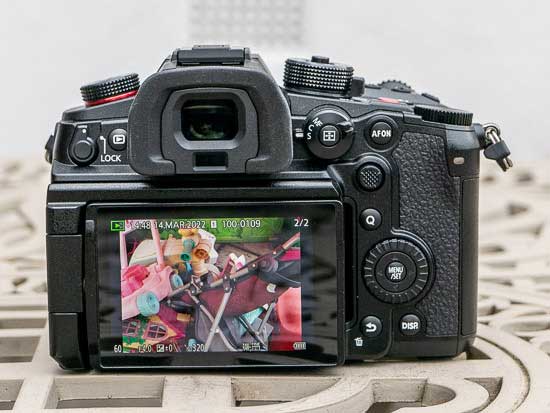 Measuring 138.4 x 100.3 x 99.6mm / 5.45 x 3.95 x 3.92in. and weighing 739g / 1.63lb body only, the Panasonic Lumix GH6 is significantly larger and heavier than the new G9 II.
The latter camera measures 134.3 x 102.3 x 90.1 mm / 5.29 x 4.03 x 3.55 inch and weighs 658g / 1.45 lb with the same battery and SD memory card fitted.
The difference is largely due to the heat-sink and forced-cooling fan mechanism that Panasonic have integrated into the design of the GH6, which helps to provide impressively unlimited recording times in every available video mode that the camera offers.
The downside is that the camera is noticeably deeper than the G9 II, something that is particularly evident in the rear LCD screen area which protrudes quite a long way out from the back of the camera.
In terms of their external design, the new G9II is virtually identical to another recently released camera, the full-frame S5II, rather than following in the footsteps of last year's GH6.
Indeed, apart from the difference in sensor size that becomes apparent when you remove the lens, you'd be hard-pressed to tell the G9 II and S5 II apart.
The G9 II benefits from inheriting the same 8-way joystick, expanded drive dial, 3.0-inch free-angle touch-control monitor and large, 3,680K-dot OLED Live View Finder as the S5 II.
The GH6's slanted top-panel has made way for the much squarer design of the G9 II.
Viewfinder
The Lumix GH6 has an OLED electronic viewfinder that offers 100% field of view, 10000:1 contrast ratio, 21mm eye-point and 3,680K-dot resolution.
It has a magnification ratio of approx.1.52x / 0.76x and operates at a native rate of either 30 or 60fps.
The new G9 II has a similar 3,680K-dot resolution EVF to the GH6, but the magnification is slightly higher at 1.60x / 0.80x and the maximum refresh rate is 120fps.
LCD Screen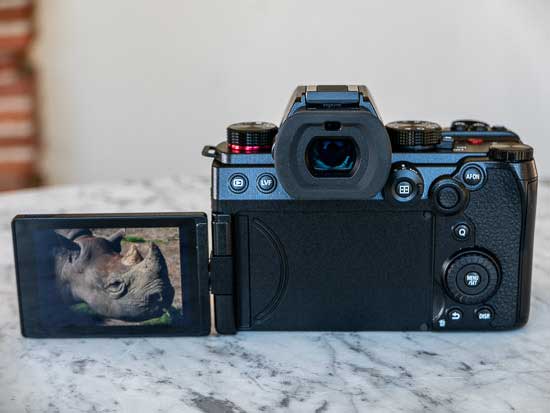 Both cameras also use exactly the same 3.0-inch, 3:2 ratio, swivelling and tilting LCD touch-screen with 1,840,000 dot resolution, so no improvements have been made to the G9 II in terms of the LCD screen.
The free-angle design means that you can flip it out to the side, rotate it forwards for easier operation when pointing the camera at yourself, and fold it flat against the back of the camera to stop it from getting scratched.
IBIS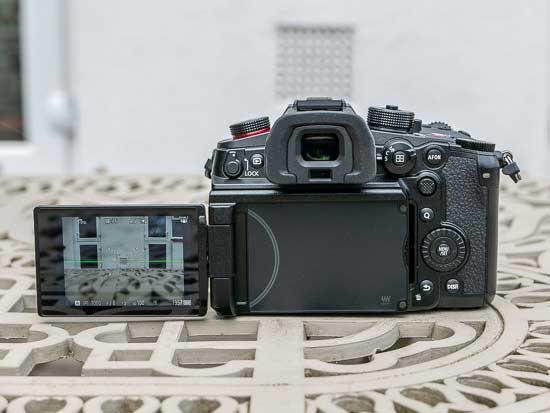 The Lumix GH6 uses a super high-precision 5-axis gyro sensor with an updated algorithm to achieve a powerful 7.5 stops of Body I.S. and Dual I.S.
The G9 II slightly improves on this already impressive technological feat by providing 8-stops of in-body image compensation (IBIS) and 7.5 stops of 5-axis dual image stabilisation when used with compatible lenses.
The stabilisation system in both cameras works for both stills and video recording.
Memory Cards
Both of these cameras have dual memory card slots, both support the faster SD UHS-II memory card standard, and both have a dedicated memory card port that's hidden behind a lockable door on the left-hand side of the camera.
Whereas both slots on the the G9 II support SD UHS-II cards, the GH6 has one slot that supports CFexpress card (Type B) which supports internal recording of high bitrate video at 800Mbps or more, plus one SD UHS II V90 slot.
Battery Life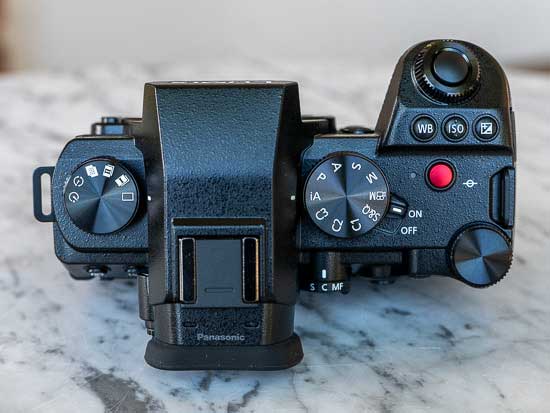 The Panasonic Lumix G9 II uses exactly the same large capacity DMW-BLK22 battery as the Lumix GH6..
Battery life is actually very similar at around 380 shots on the GH6 when using the Live Viewfinder and 400 using the LCD screen, and 390 shots on the G9 II using either the EVF or LCD.
Both cameras can also be powered and charged via a USB connection, which is useful if you're out and about and have a compatible powerbank to plug the camera into, with both using the newer USB-C 3.2 variant.
Price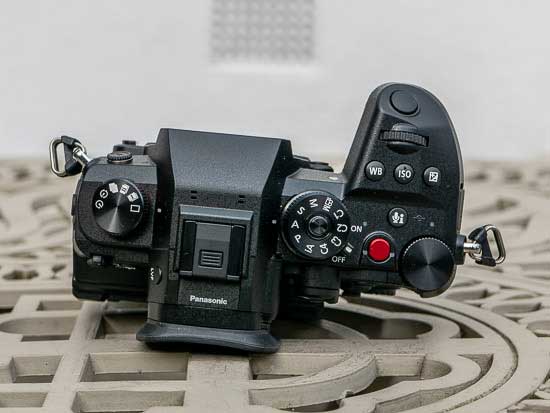 A price-tag of £1,699 / €1,899 body only makes the new Panasonic Lumix G9 II more expensive at launch than the Lumix GH6, but that's no surprise given both the 6-year interval and recent world events.
It's also available in two different kits, with the Lumix G Vario 12-60mm F3/5-5.6 lens for £1,899 / €2,099 and with the Leica DG Vario-Elmarit 12-60mm F2.8-4.0 lens for £2,249 / €2,499.
In comparison, the Lumix GH6 was priced at £1999 in the UK and $2199 in the US body-only when it was launched in 2022, but a recent price drop to £1,599 / $1,699 currently makes it slightly more affordable than the brand new G9 II.
Conclusion
Choosing between the hybrid Panasonic Lumix G9 II and the more video-centric Lumix GH6 is a real challenge, especially as they're currently available at roughly the same price. The G9 II offers the main benefit of PDAF auto-focusing for the first time on a Panasonic MFT camera, but the GH6 with its built-in fan supports unlimited recording times in any video mode.
So what do you think? Would you choose the Panasonic Lumix G9 II or the Lumix GH6, and why? Leave a comment below!
Your Comments


Credit : Source Post