Introduction
The new Zf is a full-frame FX format mirrorless camera inspired by the iconic FM2 film camera that was first released in 1982. It also very closely resembles the APS-C sensor Nikon Zfc camera that was released in 2021.
The Zf has a classic vintage design, featuring several familiar physical controls on the body, including dedicated dials for adjusting ISO, shutter speed, and exposure compensation.
The Zf uses the same Z lens mount as Nikon's range of full-frame sensor cameras, which means that it can utilise the same range of Z branded FX lenses.
Key features offered by the Nikon Zf include a 24.5 megapixel sensor, EXPEED 7 processor, 299 phase-detection AF pixels with the same subject-tracking modes as the Z8/Z9, -10EV low-light AF, 8 stops of vibration reduction, ISO range of 100-64,000 that's expandable to 100,000, up to 30fps burst shooting with AF/AE tracking, 4K/30p video recording, a vari-angle touch-screen LCD, Wi-Fi and Bluetooth connectivity, dust and drip-resistant weather-proofing down to 0 °C, and dual memory card slots.
The Nikon Zf is available in October 2023 priced at £2299 / €2599 body only, £2519 with the Z 40mm f/2 SE lens, and £2849 with the Z 24-70mm f/4 S lens. There are six different premium exterior colour options, in addition to the all-black standard model.
Here's our review so far, based on spending a few hours with the Nikon Zf – we'll update this review and reach our final verdict when we've spent a lot more time with it. The sample images have kindly been provided by Nikon.
Ease of Use
Nikon have followed up the 2021 release of the APS-C sensor Zfc retro digital camera with the new 35mm full-frame Zf, which closely follows the design ethos of the older model, so much so that you'd be hard-pressed to tell them apart side-by-side.
In turn, both of these cameras have clearly taken their inspiration from Nikon's old FM2 film SLR from the 1980s, including a familiar pentaprism style design, a leaf shutter switch and an array of rangefinder-like dials and switches.
There's also a brand new embossed artificial leather grip area, including when the LCD monitor is closed, complete with brass dials on top of the camera which apparently will gradually wear over time to add more character and patina to the camera.
Nikon are clearly trying to cash in the growing enthusiasm for retro-styled mirrorless cameras in recent years, as well as, separately, a rise in the popularity of film based photography, not only from people returning to the art, but from those of a younger, student generation.
Kudos to Nikon though, as the new Zf is much more than just a faithful ode to the past. Indeed, it offers several technological firsts for the Nikon Z-series as a whole, even offering features not seen on the flagship Z8 and Z9 models.
This includes subject detection in manual focus mode, which is ideal for users who want to use older manual-focus-only lenses. In this brand new mode for Nikon, subject detection automatically moves the focus point to the eye and immediately zooms in to focus, something that it usually a rather laborious process for MF users. There are even focus aids available in the attached lens has electronic contacts.
We got hands-on with the standard all-black version, which is certainly very stealthy and perfect for street photography, but the Nikon Zf is also available in up to six additional colours in overseas territories that include various pastel shades, brown and grey.
The Zf will cost £2299 body-only on launch, significantly more than the Zfc at £899, so if you like the styling but don't have the cash to go full-frame, then the APS-C alternative is a compelling option in terms of its price-tag.
There are a couple of kit lens bundles available at launch, including either the diminutive Z 40mm f/2 SE prime with its equally retro styling, or the more modern, versatile Z 24-70mm f/4 S zoom which pushes the price up to £2849.
Nikon has opted for a best of both worlds approach here when it comes to the Zf's handling and operation. To take one example, we get the chance to fire the camera's shutter release either via the regular top-plate button encircled by the on/off switch, or by simply tapping its LCD touch screen to simultaneously focus and capture a shot.
More experienced users can twiddle the top-plate dials and knobs to their heart's content to fine-tune the results if they're up to speed on what that'll do to the end result, or, alternatively if less familiar, you can simply leave the camera set to Auto and just point and shoot.
It's fair to say that the Zf's top plate is crammed with features, with just enough room to get a finger or thumb around the various dials and levels, with, in most cases, one stacked upon the other so individual dials actually have multiple functions.
The standard P,A,S,M shooting mode settings are accessed on the left-hand-side via a lever that sits beneath the dial for selecting the ISO options, while a lever for swapping between stills, video or the brand new black and white mode sits beneath the shutter speed settings.
There are three distinct black and white modes accessed by this dedicated switch on top of camera – Monochrome, Flat Monochrome and Deep Tone Monochrome. The ability to quickly switch to one of these modes simply by flicking a switch is a great feature.
Despite the initial apparent complexity, we quickly got used to the busy set-up and found ourselves liking it that way; it makes the Nikon Zf feel like a finely tuned instrument with an impressive array of functionality literally to be found at your fingertips.
The top plate features three manual dials controlling shutter speed, exposure compensation (+/- 3EV) and ISO sensitivity, while a small window handily displays the current aperture in use. Alternatively, simple access to a variety of settings is achievable via a press of the 'i' button and i menu and use of the touch-screen LCD in tandem.
If you're considering this one as a possible vlogging camera, then you'll be pleased to learn the LCD monitor can be flipped fully outwards and the screen rotated to face whoever is in front of the lens. The increased articulation of the screen here is a first for the full-frame 'Z' series.
There is no built-in flash on this camera, though there is a vacant hotshoe for an optional accessory flash, so in terms of light sensitivity options when taking photographs or video without, it's worth noting that top plate dial offers direct access to incremental settings ranging from ISO 100 to 64,000.
There's also an additional setting on the same dial marked 'C' which expands this top setting to the equivalent of several steps higher, going all the way up to a whopping, albeit noise-prone Hi 1.7 setting of ISO 100,000.
In addition to this extreme low-light ISO sensitivity, the new Nikon Zf has the astonishing ability to auto-focus in -10EV low-light using the new Backlit AF mode. This uses separate pixels on the sensor for autofocusing, allowing the AF pixels to overexpose for focusing in almost complete darkness without adversely affecting the overall exposure of the final image.
While it boasts nostalgic appeal, as regards its performance and response times the compact and portable Zf is distinctly bang-up-to-date. For instance, it ably supports exactly the same subject-tracking modes as the Z8 and Z9 models, and with 299 phase-detect AF points on the sensor, it actually offers more frame coverage (89×96%) than the Z8/9 (78×83%).
For the very first time on any Nikon mirrorless camera, the ZF offers touch control on the LCD screen whilst using the EVF. This s something that we've seen before on several other manufacturers cameras, but never before on a Nikon.
You can configure a customisable area of the LCD screen for touch control activation, assign a function to it from one of the five available, and then activate that function by tapping the selected area on the LCD while you're looking through the viewfinder.
The Nikon Zf offers three different continuous shooting modes – Continuous High (7.8fps, RAW+JPEG/HEIF), Continuous High Extended (14fps, RAW+JPEG/HEIF) and High-speed + (30fps, JPEG/HEIF only).
There's also additional help in capturing the decisive moment from the pre-capture mode, just like on the Z8/9, where the camera automatically records up to 1 second before the shutter has been fully pressed and 4 seconds after it has been released.
The new Focus Point VR mode is a world first not just for Nikon, but for cameras in general. In this mode the up to 8 stops of in-camera vibration compensation that the Zf offers are concentrated on the currently selected and active focus point, resulting in a sharper subject regardless of where it is in the frame. Note that this feature only works with Nikkor lenses that don't have VR built-in, and only for stills photos and not video.
Pixel-shift shooting has been seen before on rival cameras, but now makes its debut on the Nikon system. You can choose to take 4, 8, 16 or 32 RAW shots in quick succession, with the VR unit shifting the sensor by up to 1 pixel each time.
The resulting files can then be merged together using Nikon's NX Studio 1.5.0 software to create one high-resolution image that's around a maximum of 150 megapixels in size. Note that the camera has to kept completely stable on a tripod or similar – there's no handheld mode as currently found on a few other cameras.
The Nikon Zf has a rather modest video mode that only supports up to 4K/30p/25p/24p 10-bit quality oversampled from 6K, but it does offer up to 125 minutes recording time in any mode, which is significantly longer than on the Z6 II and Z7 II models. There are also 4K/60p in the DX format and 1080/120p slow-motion modes.
The Zf is the first Z-series camera to support full control over the key exposure settings when shooting video in the Shutter Priority mode. In this mode the ISO and aperture can be set to Auto, dependent on the pre-selected shutter speed, which can be used to match the shutter speed to a tricky light source or when the brightness of the scene is constantly changing.
Unlike the Zfc which only has one memory card slot, the larger full-frame Zf has dual card slots, although there is quite a twist in that one slot supports standard UHS-II SD cards and the second rather uniquely supports the Micro SD card format. We've never seen this implementation before on any camera, so it will be interesting to see how its received.
Nikon sum up the new Zf by saying that it's the most powerful camera in its category and yet it also looks very pretty too, which will hopefully prove to be a winning combination in the ever-competitive full-frame market.
Ultimately, if you prefer a modern-looking Nikon mirrorless then the cheaper Z6 II or the similarly priced Z7 II are both great options, but if the vintage bells-and-whistles hold an extra appeal and such nostalgia tweaks those heartstrings, then the new Zf is a surprisingly capable camera that doesn't just look to the past for inspiration.
Sample Images
This is a selection of sample images from the Nikon Zf camera, which were all taken using the 24.5 megapixel Large JPEG setting. The thumbnails below link to the full-sized versions, which have not been altered in any way.
Product Images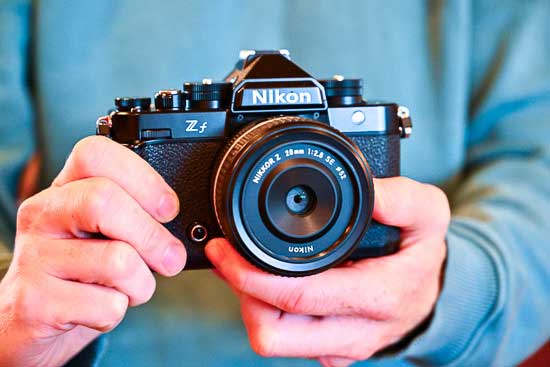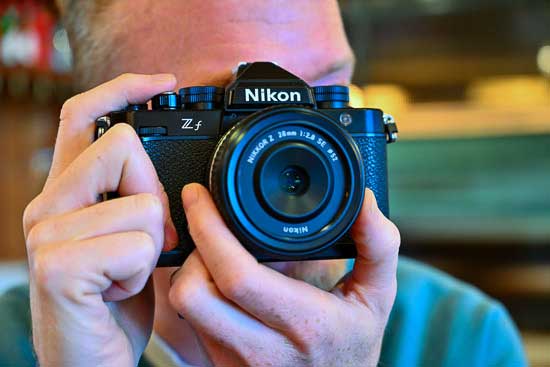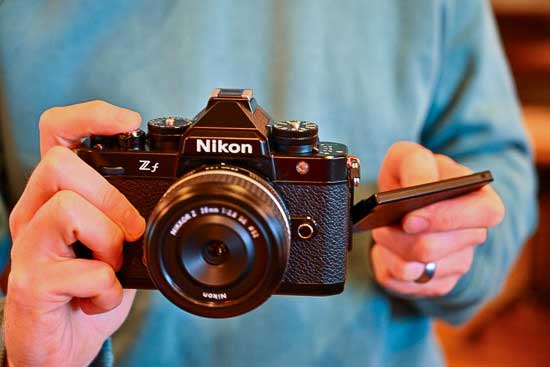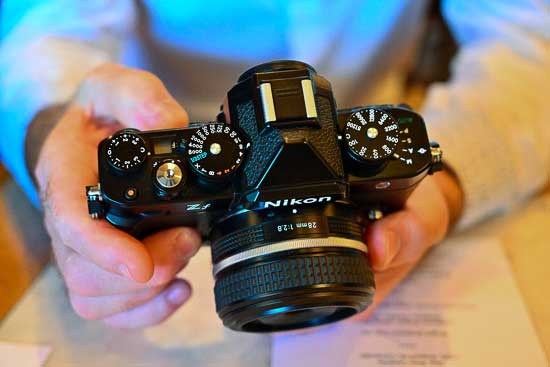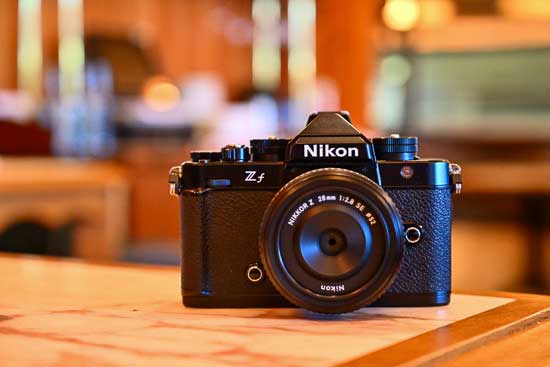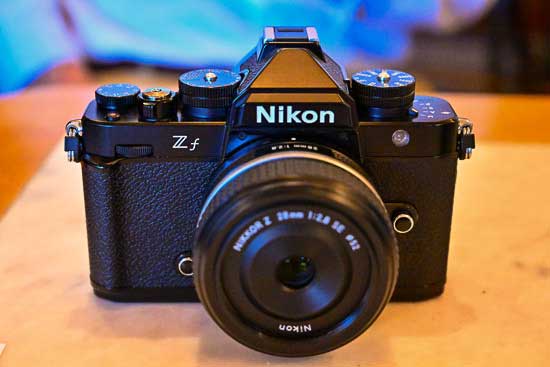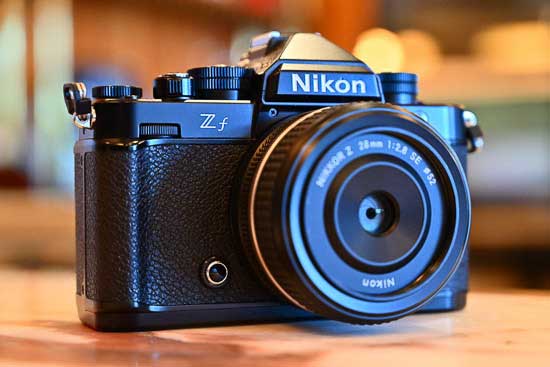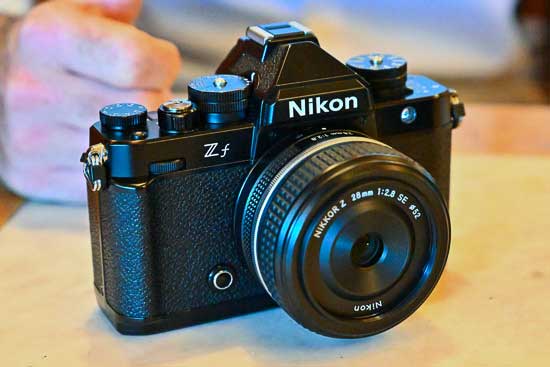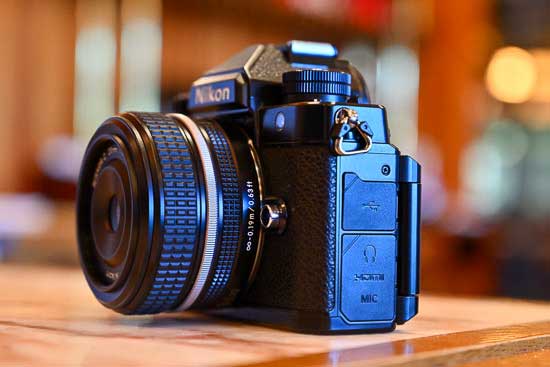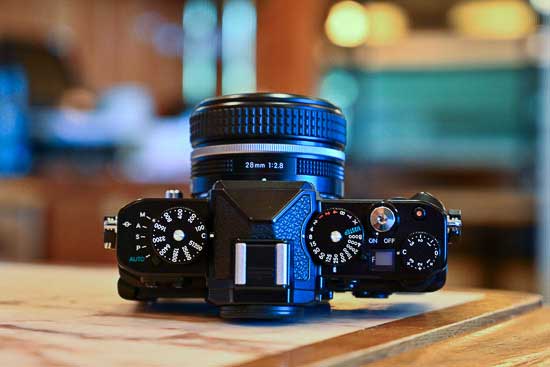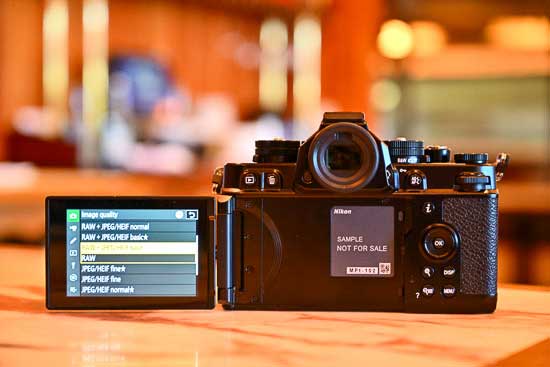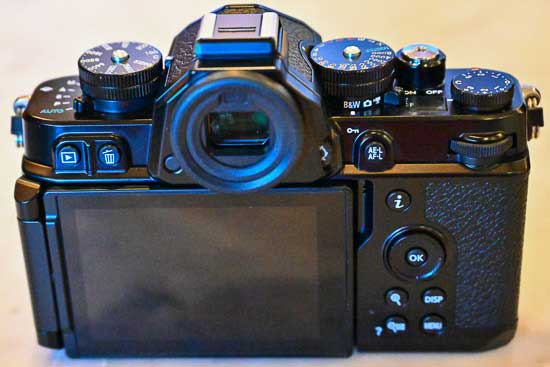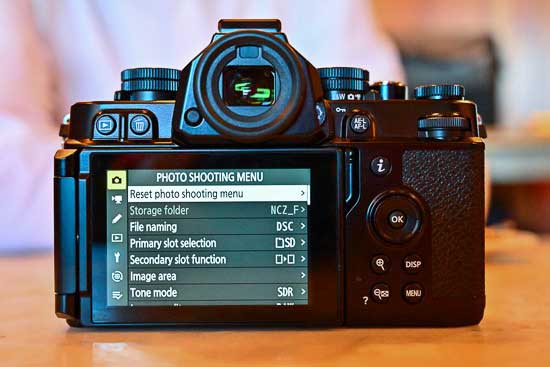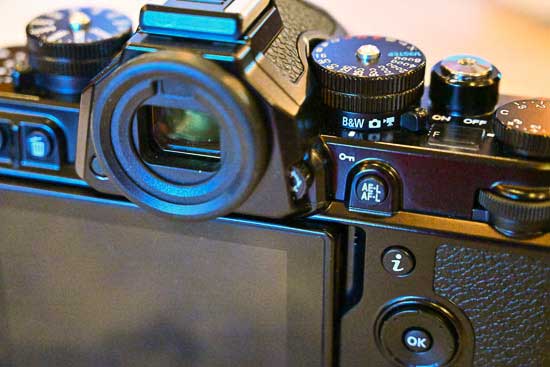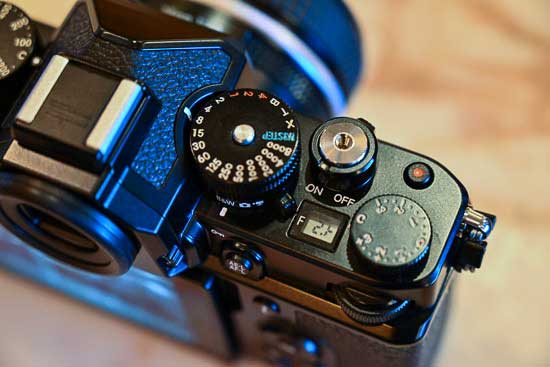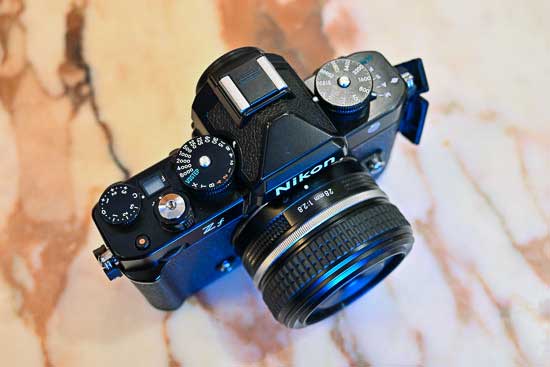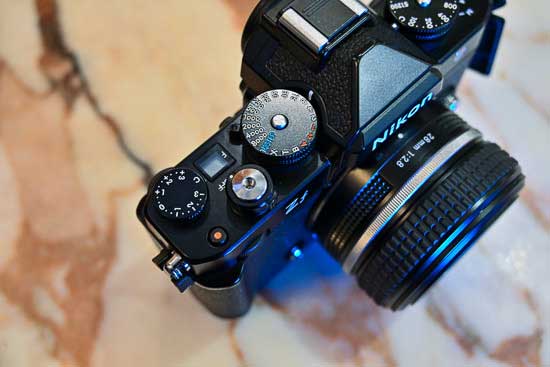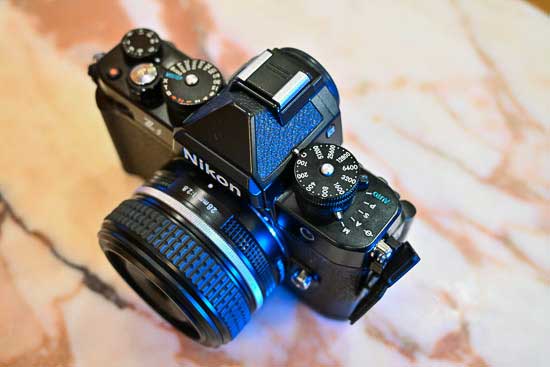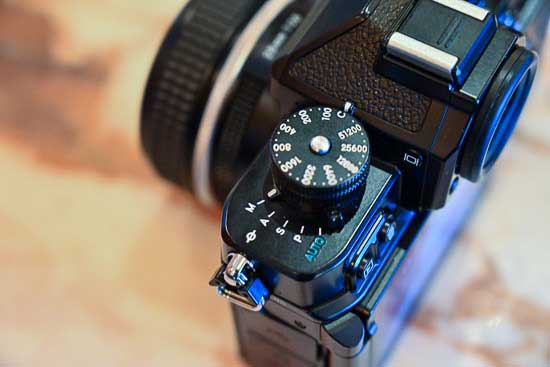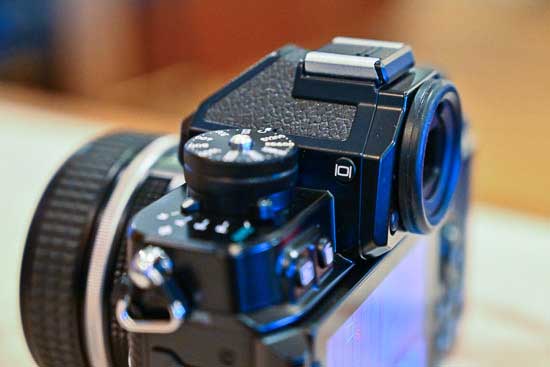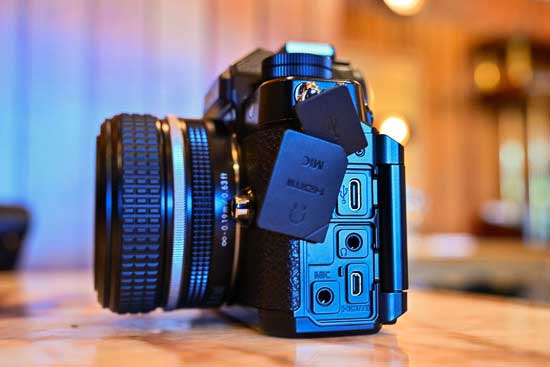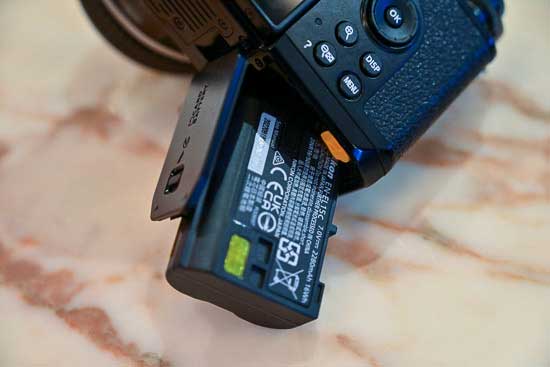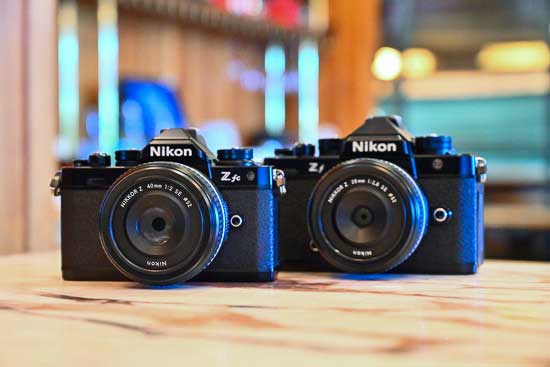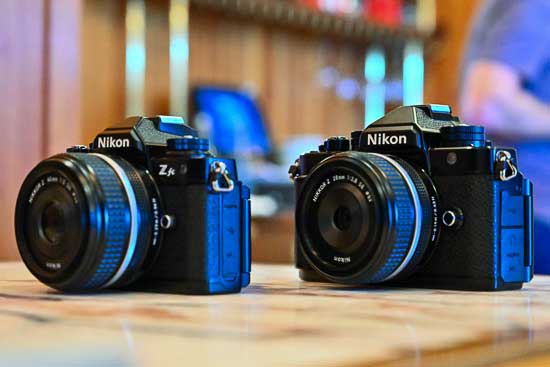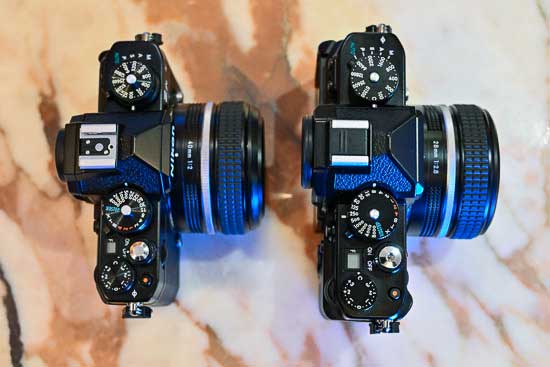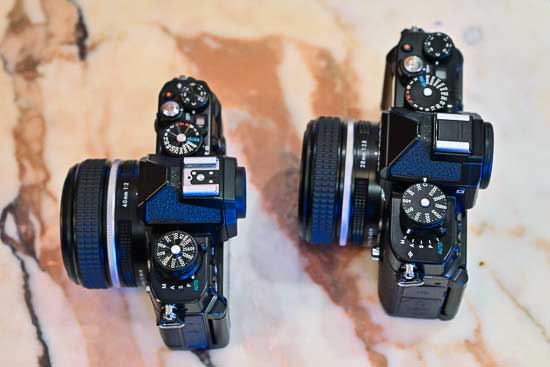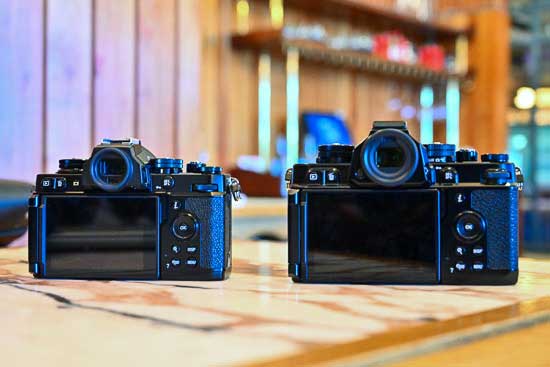 Main Rivals
Listed below are some of the rivals of the Nikon Zf.
The EOS R6 Mark II is the successor to one of our favourite full-frame mirrorless cameras, principally adding a new 24 megapixel sensor, 40fps burst shooting and improved auto-focusing. Read our in-depth Canon EOS R6 II review now, complete with full-size sample photos and videos.

Nikon have introduced their second APS-C, cropped-sensor mirrorless camera with the launch of the Z fc. Almost identical to the Z50 model in terms of its key specifications, the new Z fc offers a much more retro, classic design. Read our in-depth Nikon Z fc review to find out if it's the perfect blend of old and new…

The Nikon Z6 II mirrorless camera is an evolutionary upgrade of the original Z6, principally improving the autofocusing, buffer and video and adding a second memory card slot. Is this enough to compete with its main rivals? Find out now by reading our in-depth Nikon Z6 II review, complete with full size sample photos and videos…

The Nikon Z7 II full-frame mirrorless camera is the 2020 update of the original Z7 model, principally improving the autofocusing, buffer and video and adding a second memory card slot. Are these changes enough for it to compete with its main rivals like the Sony A7R IV and the Canon EOS R5? Find out now by reading our in-depth Nikon Z7 II review, complete with full size sample photos and videos…

Finally! The new Lumix S5 II is the first ever Panasonic camera to have a phase hybrid detection AF system, answering the critics of its contrast-based DFD system. But does this powerful hybrid photo and video camera have what it takes to beat its main rivals? Find out now by reading our in-depth Panasonic Lumix S5 II review, complete with full-size sample photos and videos.

The new Sony Alpha A7 IV is a new 33 megapixel, 4K/60p video, 10fps burst shooting, cutting-edge auto-focusing hybrid full-frame mirrorless model that pulls no punches in its bid to be the only camera that you need. Find out why we think this is one of the best all-round cameras of 2021 by reading our in-depth Sony A7 IV review…

The Sony A7C II is the second version of a 35mm full-frame camera that's amazingly almost the same size and weight as a smaller APS-C sensor camera. Find out if they've perfected the recipe by reading our Sony A7C II review, complete with full-size sample photos and videos.
Your Comments


Credit : Source Post