The 100-megapixel Fujifilm GFX 100S medium-format digital camera was released in 2021. We awarded it 5 stars / Essential and commented "With the launch of the GFX 100S, medium-format photography has never been quite so compact, portable, easy-to-use or versatile. This is truly a medium format camera that is equally at home in the studio or out in the field."
Fast forward 2 years and Fujifilm have released another 100 megapixel model, the GFX 100 II. How do these two camera differ and which model should you buy?
We're bringing you this in-depth Fujifilm GFX 100 II vs Fujifilm GFX 100S head-to-head comparison to help you choose between these two medium-format mirrorless cameras.
You can also read our detailed Fujifilm GFX 100 II review and Fujifilm GFX 100S review to find out exactly what we think of each model.
Sensor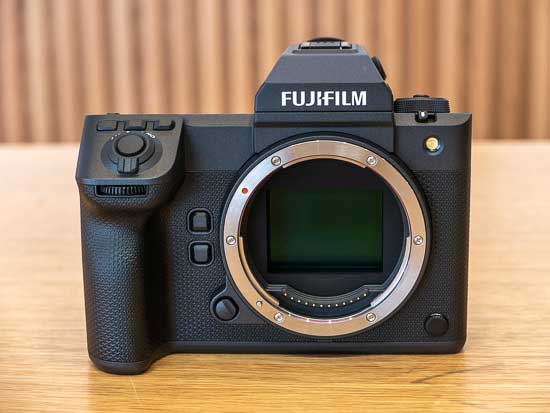 At the heart of the Fujifilm GFX 100 II is a completely new 102 megapixel high-speed image sensor called the "GFX 102MP CMOS II HS".
Along with a new processor, the new sensor delivers up to double the signal readout speed compared to the GFX 100S (which uses the same sensor as original the GFX 100), which in turn provides significant performance improvements in continuous shooting, auto-focusing and video recording.
Processor
The GFX 100II uses the very latest X-Processor 5, which provides many features including HEIF, AI, 4:2:2 10-bit and 12-bit ProRes video.
The GFX 100S uses the previous-generation X-Processor 4 processor.
Pixel Shift Multi-shot
Both cameras feature the special Pixel Shift Multi-Shot mode, which delivers massive 400 megapixel images for the ultimate quality when detail really matters.
In the Pixel Shift Multi-Shot mode the camera records 16 frames, using the IBIS unit to shift the sensor by 1 pixel between each frame.
The resulting images can be manually combined into one DNG RAW file using Fujifilm's Pixel Shift Combiner software which automatically combines them into a single DNG file.
The new GFX 100II additionally offers a 4 image Pixel Shift Multi-shot mode for easier archiving, which creates much smaller files than the standard mode.
ISO Speed
The native ISO range on the GFX-100S is 100-12,800, which can be expanded to ISO 50-102,400.
The GFX 100II has a new ISO 80 base value (ISO 100 for movies), which Fujifilm claims offers 30% more dynamic range and lower noise than the base ISO 100 value on the GFX 100S. It can be expanded to ISO 40-102,400.
Video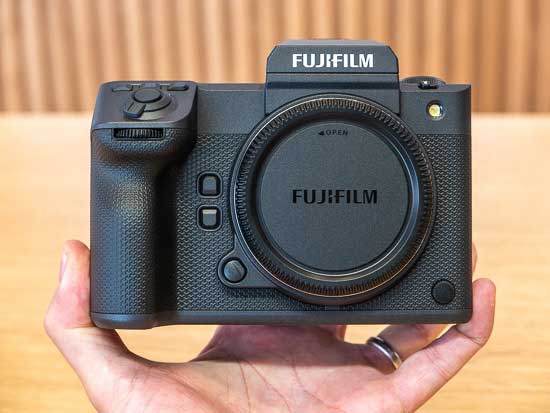 The GFX 100S supports up to DCI 4K quality recording at 29.97, 25, 24, and 23.98 fps at up to 400Mbps and Full HD up to 60fps in either the H.265 or H.264 formats, and 4:2.2 10bit was only available when recording out via the HDMI port, with 4:2.0 10bit going to the SD cards.
The GFX 100 II is the most capable medium-format camera for video ever released, offering 8K/30p, 4K/60p/30p, FHD 120p and
Apple ProRes support.
The key video modes are:
8K/30p, 31ms rolling shutter, 1.51x crop
8K/24p, 30ms, 1,42x crop
4K/60p at 15ms, no crop
FHD 120fps, 7ms, no crop
All of these modes can be recorded at 4:2:2 10-bit video internally.
There is
90 min battery life for 4K, 80min for 8K, and at
40 degrees it can operate for 38min without the optional fan accessory or 64min with for 4K, and 26/50min for 8K.
The F-log2 profile offers 13+ stops of dynamic range in any mode and over 14+ stops in dynamic range priority mode (only supports up to 4K/30p and 25ms rolling shutter).
There is
IDT support, which is a cinema standard extended colour space, and it also supports GF, Premista, 35mm and 35mm Anamorphic lenses, over 1000 in total, with the mount adapter.
AF tracking for movies as well as stills is also available for the very first time on the GFX system using the AF-C + Wide / Tracking AF mode.
Combined with a compatible ATOMOS HDMI device, RAW video output from GFX100 II can be recorded as 12-bit Apple ProRes RAW at resolutions up to 8K and frame rates up to 29.97fps.
With Blackmagic Design Video Assist 12G HDRs, RAW video output from the camera can be recorded as Blackmagic RAW at resolutions up to 8K and frame rates up to 29.97fps.
Autofocus
The Fujifilm GFX 100S has a dual phase-detection and contrast-detection type autofocus system, thanks to the 3.76 million phase-detection AF pixels that are embedded in the sensor. It uses the same AF algorithm adopted from the fourth generation X Series cameras (X-T3 and X-T30).
The new GFX 100 II bring the AI-based subject-detection AF developed with Deep Learning technology as well as the latest prediction AF algorithm developed with the X-H2S to the GFX Series for the first time.
It can now detect animals, birds, cars, motorcycles, bicycles, airplanes, trains, insects and drones, just like the very latest X-series cameras.
Burst Shooting
The GFX 100 II offers amazing continuous shooting speeds for a medium-format camera, even putting some 35mm full-frame models to shame.
It supports 8fps bursts using the mechanical shutter for both CFExpress and SD memory cards, with a buffer of 1000K+ JPEGs, 325 Raw Comp, 75 Raw + JPEG.
The GFX 100S is slower and has a much smaller buffer, offering a continuous shooting rate of 5fps for just 41 JPEGs or 16 compressed Raw files if you use a UHS-II SDXC card and the mechanical shutter.
Body and Design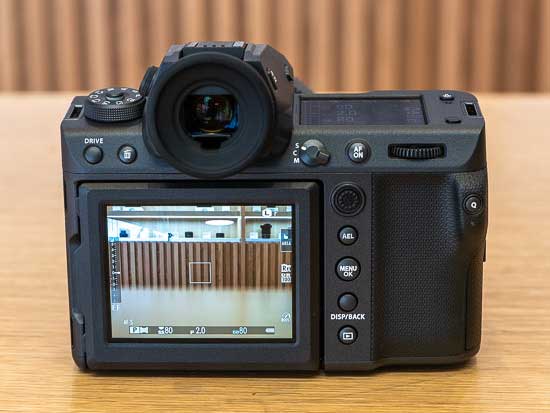 The new GFX 100 II and the GFX 100S are very similar in appearance, so much so that you'd be hard to tell them apart at first glance.
The sub-LCD screen on the top is bigger at 2.09-inch (the GFX 100S has a 1.8-inch panel) and there is a new row of three unmarked Function buttons just behind the shutter button. Otherwise it's difficult to tell the GFX 100II and the GFX 100S apart visually when they're side-by-side.
Fujifilm have also employed a new BISHAMON-TEXTM texture is used to maximize the camera's grip when hand-held in various angles.
The GFX 100 II has all the ports that you could ever need, including a headphone jack, MIC / remote release port, Ethernet port, USB-C port and a full-size HDMI Type A port.
IBIS
The GFX 100 II offers up to a very impressive 8-stops of IBIS (when using either the 63mm lens, 80mm or 110mm lenses), which is currently the best performance of any Fujifilm camera regardless of sensor size.
The GFX 100S provides up to 6 stops of image stabilization when using the GF 63mm F2.8 R WR lens, which is still very impressive for a medium-format camera but not quite on a par with the GFX 100 II.
Viewfinder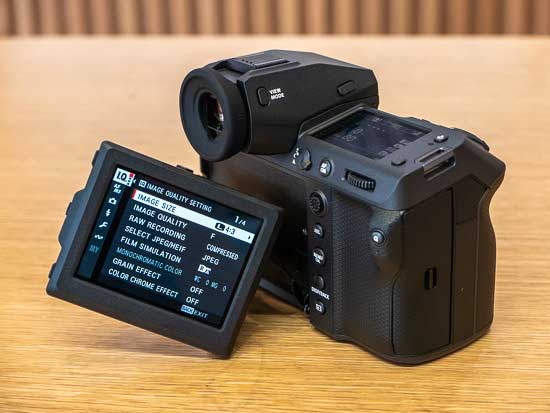 The Fuji GFX 100S has an impressive 3.69M-dot OLED electronic viewfinder which is 0.5 inch in size, offers 0.77x magnification and 100% scene coverage, and has an 85fps refresh rate.
The new GFX100II ups the ante considerably by featuring a 9.44m-dot OLED EVF with 120fps refresh rate and most impressively 1.0x magnification. Once you've looked through this EVF, you won't want to try another one ever again!
The electronic viewfinder on both models is removable, slotting into the flash hotshoe on top of the camera, improving system modularity and enabling the camera to shed some weight if necessary.
LCD Screen
Both cameras have exactly the same LCD screen. It's 3.2-inches in size and the resolution is 2.36m-dots, exactly the same as the screen on the GFX 50S and GFX 100.
It has a three-way tilting design, so it can be tilted up and down by about 90 degrees when in landscape mode and also upward when shooting in portrait mode via a simple press of a button on the side.
Memory Cards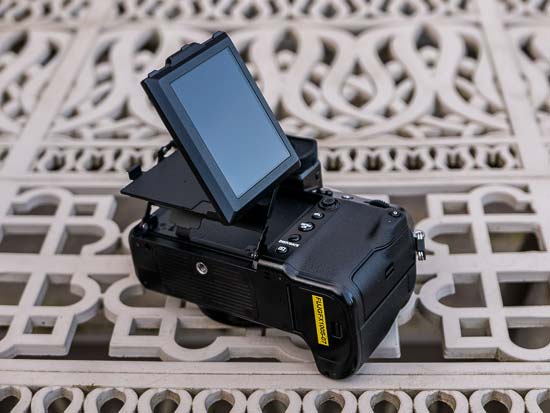 The GFX 100S has dual UHS-II SD memory card slots located on the right-hand flank of the camera when viewed from the rear.
The GFX 100 Mark II has one UHS-II SD slot and one CFexpress Type B slot, as also seen on the recent X-H2S and X-H2 X-series cameras. You need to use use a CFexpress Type B card with a fast write speed to take full advantage of all the different video modes that are available.
Battery Grip
There is an optional battery grip available for the GFX 100 II, rather than having an integrated one as on the original GFX 100 model.
The GFX 100 II is compatible with the VG-GFX II optional accessory, which also has an extra set of key controls for horizontal use and also holds two extra batteries, supporting a maximum of three in total when you also count the one in the camera.
Fujifilm never released an optional battery grip for the GFX 100S, and it doesn't even have the electrical contacts on the bottom of the camera body, so there will are 3rd-party options available either.
Instead there is a metal hand-grip accessory called the MHG-GFXS that enhances the in-hand feel of the camera. So if you're a fan of either fitting an optional battery grip to your camera for better battery life and improved ergonomics when shooting in portrait mode, sadly the GFX 100S won't meet your needs.
Battery Life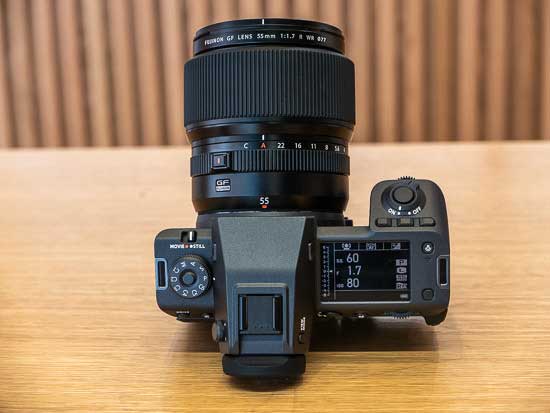 Both of these cameras use exactly the same NP-W235 batteries as the X-T5, X-H2 etc.
The GFX 100S has a CIPA-rated battery life of up to 465 shots on a single charge in normal mode.
Fujifilm claim that the new GFX 100 II offers 540 shot life, so around 1620 shots if you use the optional grip and install all three batteries.
Both cameras can also be powered and charged via a USB-C connection, which is useful if you're out and about and have a compatible power-bank to plug the camera into.
New to the GFX 100 II is the ability to connect external SSD drive via the USB-C port and then record stills and videos directly to the SSD drive in any mode or format, including 4K/60P and 8K/30P.
Film Simulations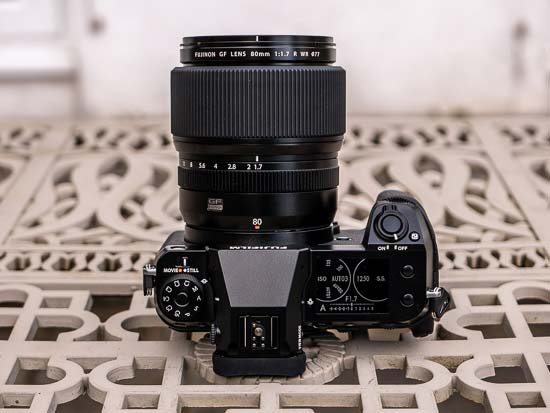 For the first time on any Fujifilm camera, there's a brand new film simulation called Reala Ace. This is a negative film simulation that's similar to Provia, but is slightly less saturated and contrasty.
The new Reala Ace brings the total of film simulations available on the GFX 100 II to 20.
Price
The new Fujifilm GFX 100 II is priced at £6999 / €7999 / $7499 body-only in the UK, Europe and USA respectively.
The recommended retail price of the Fujifilm GFX 100S was £5499 / $5999 body only in the UK and USA respectively when it was first released in 2021, a price that it still commands today.
Conclusion
The new GFX 100 II is Fujifilm's third-generation 100 megapixel model, inheriting all of the recent advances that Fujifilm have made on their X-series range to create their fastest medium-format camera yet. These two cameras have very similar ergonomics, so if you don't need all the bells and whistles that the GFX 100II has added, then the GFX 100S still remains a lovely camera to use and substantially cheaper to boot.
So what do you think? Would you choose the new GFX 100 II or the now aging but still capable GFX 100S? Leave a comment below!
Your Comments


Credit : Source Post