The entry-level EOS R100 and EOS R50 cameras were released within 6 months of each other as Canon seeks to dominate all areas of the mirrorless market, but which camera should you choose?
We're bringing you this in-depth head-to-head comparison between the new Canon EOS R100 and its slightly more expensive sibling, the EOS R50, to find out what the key differences are between them.
You can also read our detailed Canon EOS R50 review to find out exactly what we think of that particular camera.
Sensor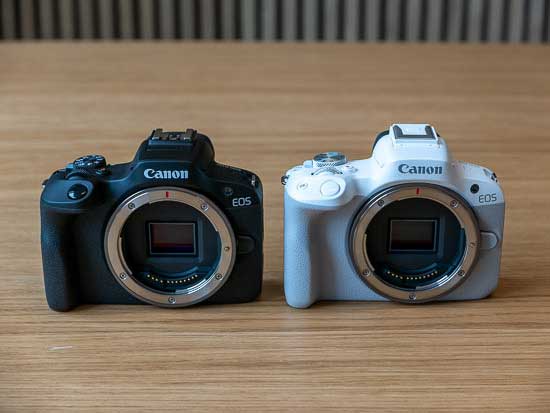 The Canon R50 has a more advanced 24.2 megapixel APS-C CMOS sensor which is partnered with the very latest Digic X processor.
The new Canon R100 also has a 24 megapixel sensor, but it's an older model that's been inherited from the EOS M50 Mark II and "optimised" for the R100.
The R100's 24.1 megapixel sensor is different to the one found in both the R50 and R10, and it's also paired with the older Digic 8 processor.
Subsequently the image quality for both stills and video will be better in the R50 than the R100.
ISO Speed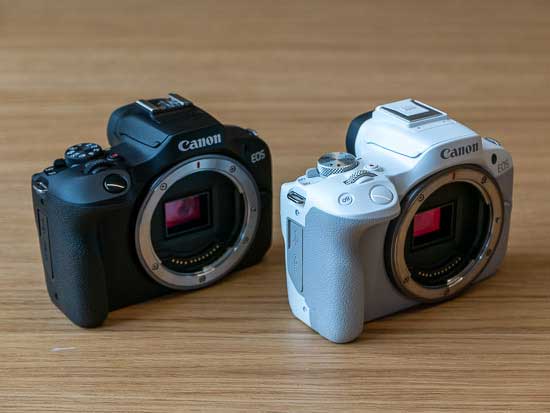 On the Canon R50 the ISO range for stills runs from 100-32,000, which can be further expanded up to ISO 51,200, exactly the same as the EOS R10.
The R100 has a slightly more limited ISO range of 100-12,800 which can be expanded up to 25,600.
Video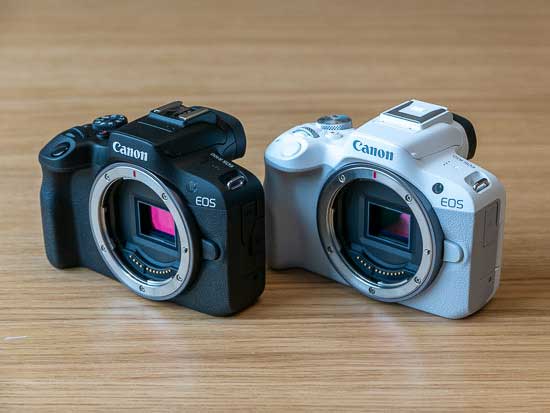 The EOS R50 can record up to 4K UHD / 30p / 10-bit footage internally with dual-pixel auto-focus and auto-exposure.
The new R100 also offers 4K video, but only at 25 frames per second, and it still suffers from the same heavy 64% / 1.55x crop as the EOS M50 II, which really makes it a high-quality 1080/60p camera rather than a 4K one for the majority of users.
Also note that on the R100, autofocusing during 4K recording is only contrast-based, which is slower and less precise than the phase-detection system that operates in the camera's 1080p mode.
The R50 offers full 1080 slow-motion recording at up to 120p with autofocus (but no sound), plus live streaming on YouTube and vertical video capture.
The R100 also provides 120p slow-motion recording but only at 720p resolution. It also supports vertical video capture, but not live streaming.
Recording time is limited to 1 hour on the R50 and 30 minutes on the R100.
Unique to the R50 is a shooting mode called "Movie for close-up demos", which automatically focuses on anything that you hold up to the camera during recording, and then focuses back on the subject when the object is removed from the frame or moved backwards.
Both models offer Movie Digital Image Stabilisation (IS), an extra Digital IS mode called Enhanced which helps to keep handheld footage sharp.
The EOS R50 can be used as a webcam simply by connecting it to a computer with a USB cable, whereas with the R100 you have to additionally install the EOS Webcam Utility software in order for it to be recognised.
Autofocus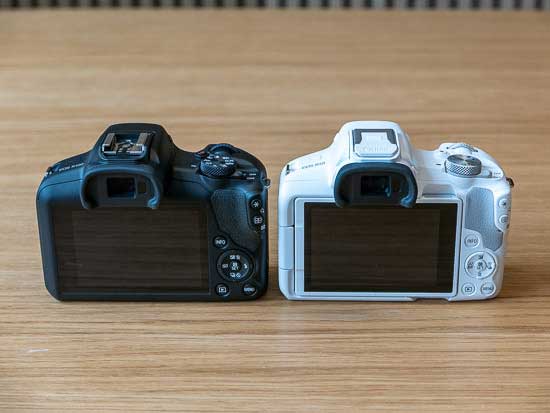 The R50 has a much more advanced auto-focus system than the R100.
It features the the same deep-learning artificial intelligence based automatic face, eye, animal and vehicle AF tracking modes as the much more expensive full-frame R3, R5 and R6 models.
This AF system has 651 automatic focus points and 4,503 manually selectable AF points, 100% frame coverage in Auto selection mode and 90% vertical and 100% horizontal in manual selection.
The R50 can recognise and track eyes, and it works even if the person is wearing a mask, helmet or sunglasses. Subject tracking works for humans and also dogs, cats and birds, the latter even in flight.
It also has the ability to track vehicles, including cars and motorbikes. What's more, if the driver is wearing a helmet, the AF system will lock on to that, ensuring that the most important subject is in focus.
The R100 has a less sophisticated autofocus system that offers face and tracking AF with eye-detection.
It's shame not to see any animal or even bird eye-AF added too, although that's probably to be expected on an entry-level camera like this one.
The R50 can focus in light levels as low as -4EV (when used with an F1.2 lens) or with maximum apertures as small as f/22, which enables autofocus even when using ultra telephoto lenses with teleconverters.
Burst Shooting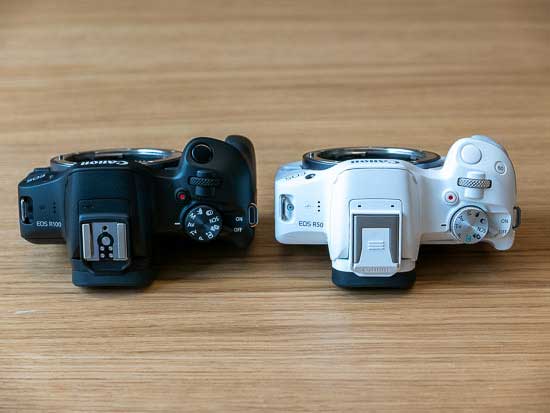 The EOS R50 is a pretty fast camera, with 12fps burst shooting available when using the its first-curtain electronic shutter and 15fps when using the silent electronic shutter, both with continuous auto-focus and auto-exposure.
Note that this camera does not have a mechanical shutter, unlike the cheaper EOS R100 model.
The R100 has a much slower burst shooting rate of 3.5fps with full-time AF/AE and 6.5fps without. It also offers a completely silent mode.
If you shoot a lot of sports, action or nature photography, the R50 would be a much better choice because of its faster burst rates.
Body and Design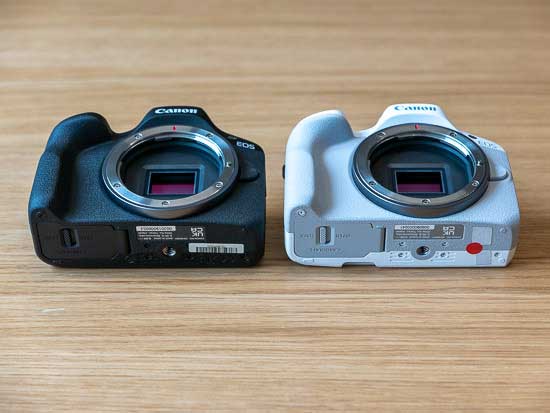 The design of these two cameras is virtually identical, with just a few differences that are still quite important.
Despite being almost equally sized, the new R100 is actually slightly lighter than the R50, mainly due to having an even smaller handgrip.
It weighs 356g with both a battery and memory card fitted versus 375g for the EOS R50, making it the lightest and most compact full-frame camera that Canon currently offer.
The R100 has a larger D-pad than the R50, perhaps because it doesn't offer a touchscreen LCD, but there's no dedicated ISO button on top of the R100.
On the flip-side, the R100 does have a remote connector port, which the R50 strangely lacks.
Turning once again to the negatives, the R100 has the older 5-pin hotshoe, not the more sophisticated multi-function shoe that the R50 and all other recent Canon mirrorless cameras have.
IBIS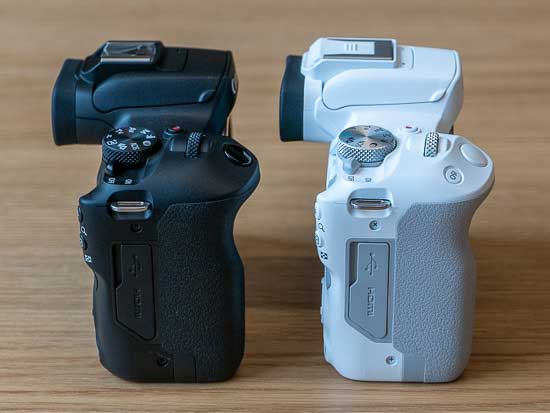 Neither camera has an in-body stabilizer, only providing digital IS for movies in-camera.
Instead you have to rely on a mix of lens stabilisation (if the lens offers it) and/or in-camera digital stabilisation.
So if IBIS is a must-have feature for you, you'll need to look a lot further up the Canon range.
Viewfinder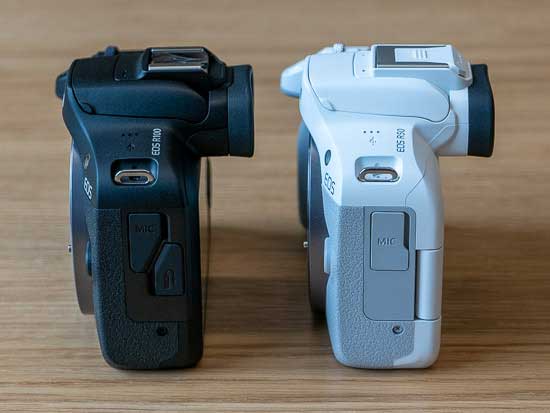 Both cameras have exactly the same integrated OLED electronic viewfinder with 2.36M dot resolution and magnification of 1.15x.
The one on the R50 has a faster 120fps refresh rate whereas the R100 is limited to 60fps.
LCD Screen
The Canon R50 has a 3-inch, 1.62 million dot, vari-angle LCD screen which tilts out to the side and faces forwards for more convenient vlogging and selfies with a touch-screen interface.
The cheaper R100 model has a lower-resolution 1.04 million dot, 3-inch screen which is fixed in place. Yes, you read that right, the R100's screen cannot be moved or tilted or rotated in any direction.
And that's not the only throwback to cameras of yesteryear – the R100 doesn't have a touchscreen either, unlike the R50 and all other current Canon mirrorless cameras.
This is particularly perplexing on a camera that is aimed at people looking to upgrade from a smartphone.
Memory Cards
The R50 and R100 both have a single SD card, but it only supports the slower UHS-I format rather than the more recent, faster UHS-II.
Battery Life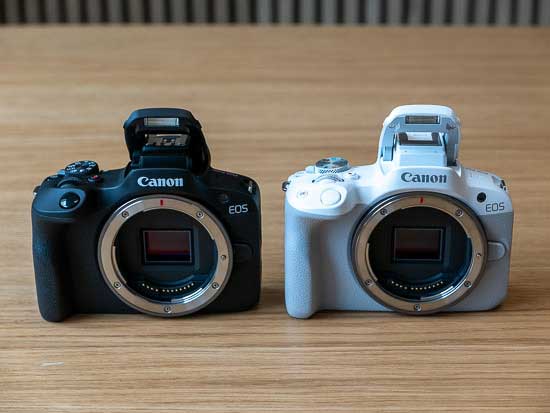 The R50 uses exactly the same LP-E17 unit found in lots of previous Canon DSLR and mirrorless models like the 850D and 250D.
The R50's battery life is 440 shots with the LCD and 310 with the EVF.
Connectivity
Both cameras feature built-in Bluetooth and Wi-Fi and can be easily connected to a smartphone and networks allowing high-speed file sharing and FTP/FTPS transfer.
Note that the both R50 and R100 only support the slower 2.4Ghz wi-fi protocol.
Both models can be remotely controlled and even updated using Canon's Camera Connect and EOS Utility apps.
Live streaming to YouTube is supported on the R50 via wi-fi and Canon's image.canon service, but not on the R100.
Price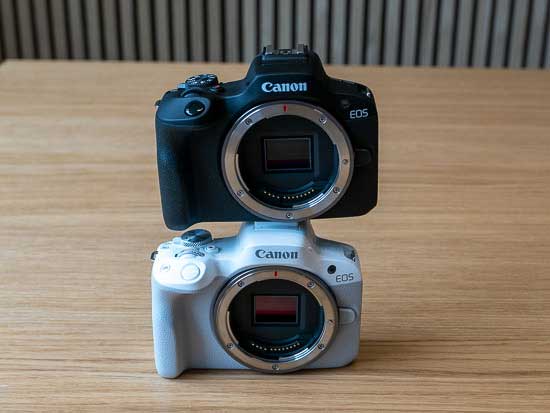 The Canon EOS R50 is priced at £789.99 / €829.99 / $679.99 body only in the UK, Europe and USA respectively and is available in black or white. It is made in Taiwan.
The Canon EOS R100 is priced at £669 in a kit with the Canon RF-S 18-45mm F4.5-6.3 IS STM lens. There is no body-only option.
Conclusion
The new Canon EOS R100 is the smallest, lightest and cheapest model in the extensive range of R-series cameras, with an even more pronounced focus on beginners than last year's EOS R50.
It does lose out to the R50 in most regards though, most notably image quality, video capability, burst shooting speeds and auto-focus performance, not to mention the rather perplexing fixed non-touch LCD screen.
So what do you think? Would you choose the Canon EOS R100 or the EOS R50? Leave a comment below!
Your Comments


Credit : Source Post